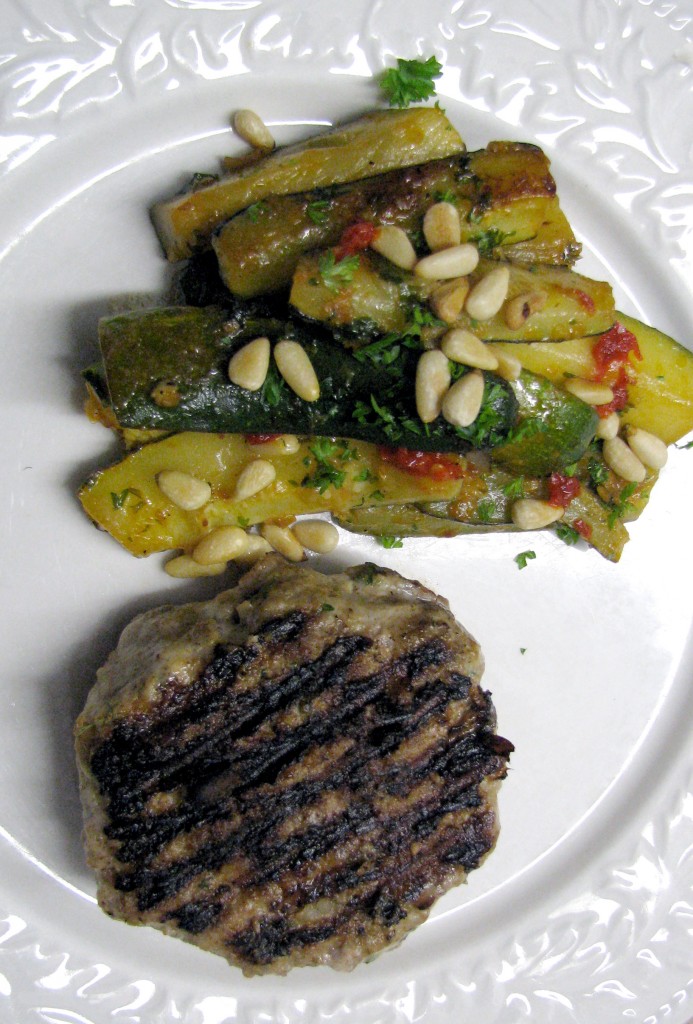 I'm always looking for healthy but tasty dishes to serve during the week. Low in carbs and calories, but appetising and quick.  On Monday we had baked salmon with lentils – sauté a chopped onion in a little olive oil until soft, then add a drained and rinsed can of lentils, a tablespoon of vinegar, a couple of tablespoons of chopped herbs (I used dill), salt and pepper and cook, stirring for 2-3 minutes.  Meanwhile place the salmon portions on an oven tray lined with a piece of lightly oiled foil (great way to save on washing up!), season then bake in a preheated hot oven (200C) for about 7-8 minutes – we like it fairly rare inside.   Serve salmon on a bed of lentils with a lemon wedge to squeeze on top.
Last night we had zucchini (courgettes) with pork burgers.  The burger recipe came from one of Bill Granger's books which I flicked through while we were in Newcastle last weekend, staying with our daughter and her family.   The zucchini recipe I cut out of a magazine some time ago.  The zucchini were from the garden, so of course they were even more delicious!
Pork Burgers
500g pork mince
½ cup fresh breadcrumbs
½ onion, grated
1 Tbs chopped parsley
1 egg
1 tsp fennel seeds, toasted and crushed with a mortar and pestle
S and P
Mix all together in a bowl then form into four burgers about 10cm in diameter.  Cook on an oiled griddle pan over moderate heat for 5-7 minutes each side, or until cooked through.  Serve as Bill suggests, in a toasted bun with rocket, red onion and roasted red capsicum and sweet potato fries on the side.  Or as we had them, just as they were, with a green vegetable.
Serves 4
Lemon Zucchini with Pine Nuts
3-4 medium zucchini (courgettes)
2 Tbs olive oil
1 clove garlic, crushed
Pinch of crushed dried chilli, or some fresh chilli, or chilli paste
Juice and zest of 1 lemon
1 Tbs roughly chopped parsley
2 Tbs pine nuts, toasted
S and P
Wash and dry zucchini, cut off the ends then quarter lengthwise and cut into 3-4cm sticks.  Heat oil in a large frying pan.  Add zucchini and cook, stirring, for 3-4 minutes.  Add garlic and chilli and continue to cook until zucchini is starting to colour and soften.  Add lemon juice and zest and continue to cook, stirring, until the liquid has been absorbed.  Season with S and P, stir through the parsley and serve sprinkled with the pine nuts.
Serves 4 as a side dish