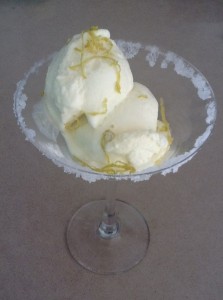 The reason I've been a silent blogger for the past couple of weeks is the following. My family brought my dear friend Elaine in from Chile as a surprise for my birthday. As I was greeting the guests at the party she rang on my daughter's mobile. And as I was speaking to her and saying how I wished she could have been there, in she walked. What a great birthday gift! Anyway I've spent the past fortnight doing touristy stuff in Canberra and Sydney with Elaine and having an absolute ball.
Elaine has now returned to Santiago and over the four day Easter break I will be doing some cooking. Am having fun using my new iPad to take photos of the dishes. This recipe for Margarita Ice Cream is another from Nigella Lawson and it's delicious. As you can see it looks great served in Martini glasses with the rims dipped in a mixture of caster sugar and salt.  We had a full house for lunch today and the ice cream had started to melt by the time we got organised with a camera, so it's not the best photo!
Margarita Ice Cream
500ml thick/double cream
1/2 cup fresh lime juice (125ml)
3 Tbs Cointreau or Grand Marnier
2 Tbs Tequila
150g icing sugar
To serve:
Lime zest
A Tbs each of salt and caster sugar, mixed
With electric beaters, whip cream until thick but not stiff, then gradually whip in the remaining ingredients. Pour into a plastic container and freeze for several hours or overnight. Due to the alcohol content it will not set rock hard, so there's no need to remove it from the freezer 10 minutes before serving time, as you usually do with home-made ice cream.  Use an ice cream scoop dipped in hot water to make balls and serve in Martini glasses, the edges dampened with a little water, then dipped in a mixture of salt and caster sugar. That sounds like a lot of salt to go with ice cream, but you won't use it all. Garnish with lime zest. Serve on its own or accompanied by fresh fruit.