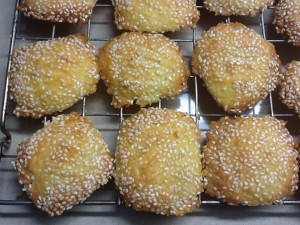 These delicious biscuits are family favourites to serve with drinks.  They're a traditional Aussie recipe and were made by all the ladies of a certain age – my mother in law, her sister and my dear friend Joan Tyrrel who passed away last year. While the recipe says to use cheddar, you can use any hard cheeses, including a mixture of leftover bits and pieces! At their best when fresh, they will keep in a tin with a lid for up to a week, if they last that long.
Sesame Cheese Biscuits
200g plain flour
200g butter
200g cheddar cheese, grated
1-2 tsp dry English mustard or cayenne pepper (optional)
Sesame seeds to coat
Preheat oven to 180C.  Place flour and butter in food processor and process until fine crumbs.  If liked add some English mustard powder or cayenne pepper at this stage.  Add grated cheddar and continue to process until mixture forms a ball.  Tip out then pinch off pieces the size of a large walnut and roll into balls.  Roll balls in sesame seeds to coat them all over, then arrange on baking trays lined with baking paper.  Press each biscuit lightly with a fork and leave a space between each one as they will spread while cooking.  On a hot day it's a good idea to refrigerate the biscuits for about half an hour before cooking.  Bake for about 15 minutes or until golden.  Cool on cake racks.
Makes about 45 biscuits
Note: you can make this recipe with less or more ingredients, just keep the weights of flour, butter and cheese equal