We lived in Santiago from 1992 to 1995 and our daughter has since married a Chilean doctor, so Chile is like a second home for us. Lots of fantastic amigos live there, as well as our "consuegros" – our daughter's in-laws. Spanish has a name for that relationship which is lacking in English. We love the people and the country. The pisco sours and the empanadas. The wines and the seafood. And so much more…
They mostly eat two kinds of empanadas in Chile – cheese ones which are deep fried and meat ones which are baked. The baked ones are called empanadas de pino and are quite big – like a Cornish pasty or an Aussie meat pie. Most Chileans buy their empanadas because they sell them everywhere. Despite the fact that around 35,000 Chileans now live in Australia I've never seen them for sale here, so I make my own.
I like to make the pastry and the filling the day before. Assembling the empanadas takes a good hour and the filling is much easier to work with when it's cold.
Traditional Chilean empanada pastry contains lard and hot water and you have to knead it like bread dough. It can be quite tough and I prefer something lighter. You can speed things up by using bought pastry – either shortcrust or puff pastry will do – and make them any size you like. I prefer what I would call large "finger food" size. The filling is like a spaghetti bolognese sauce without the tomatoes and with the addition of raisins, olives and hard boiled eggs – the three ingredients which give Chilean empanadas their distinctive flavour. If you can't be bothered making the pastry bought puff pastry works very well.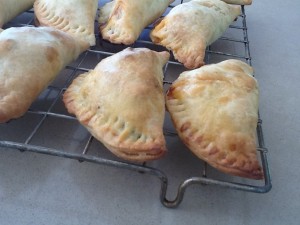 Pastry:
500g Plain flour
250g butter, cut into small pieces
½ cup sour cream
About 4-5 Tbs cold water
1 tsp salt
Filling:
2 large or 3 medium onions, chopped
2 cloves garlic, crushed
2 Tbs olive oil
500g good quality minced beef
2 Tbs tomato paste
4 tsp oregano leaves
2 tsp cumin
1 tsp chilli powder – or more, to taste
salt and freshly ground black pepper to taste
1 tsp sugar
1 tsp salt, or to taste
¼ cup sherry or red wine
½ cup seedless raisins
1 cup water
About 36 black olives, preferably stoned
5 hard boiled eggs, cut into 8
1 egg, beaten with 1 Tbs water
Filling: heat oil in a large pan and cook the onions and garlic gently until soft. Add meat and cook, stirring, until browned all over. All remaining ingredients except for the olives and eggs and simmer for about 15-20 mins or until thick. Cool throughly, preferably overnight.
Pastry: if your food processor is not very big you may need to make this in two batches. Place flour, salt and butter in food processor and process until fine crumbs. Add sour cream and with the motor running add water through the feed chute. As soon as mixture forms a ball stop the motor and tip out. Form into a ball, wrap in plastic wrap and refrigerate overnight or for at least an hour.
Preheat oven to 170°C. On a floured surface roll out half the pastry quite thinly, as you would for a quiche. Cut as many circles 10 cm (4″) in diameter as you can, then repeat with the other half of the pastry. Gather the trimmings into a ball, roll out and cut more circles. You should get about 30 and if not you should have rolled the pastry out thinner. If filling seems very thick add a tablespoon or so of water. Place about a tablespoon or so of filling on each pastry circle, plus one olive and an eighth of a hard boiled egg. If you make larger empanadas, use a quarter of an egg for each. and maybe 2 olives. You will probably have some meat filling leftover. It's nice for lunch on toast.
Dampen pastry edges very slightly on one side, fold over, seal with fingers then crimp with a fork. Make sure you seal them well so they don't burst open in the oven. Place on baking trays lined with baking paper, brush with beaten egg mixture and bake for about 30 minutes or until golden brown. Serve warm. Can be made ahead and kept in the fridge or freezer then briefly reheated to serve. If doing that then don't brown them too much in the first cooking.
Makes about 30