Everyone dreams of spending a few weeks in Paris. To live there for 4 years, as we did from 1999 to 2002, is nothing short of "jammy" as my dear Uncle Ed would have said.
Our apartment was on the 8th floor of the Australian Embassy complex with spectacular views of the Eiffel Tower. Australian architect Harry Seidler designed this interesting curved building in the 1970s to house the Embassy and staff.
We crammed a lot of food and culture into those four years. Visited the Louvre so many times I could have got a job as a guide, entertained more house guests than we knew we had friends, saw in the new millenium in style, ate our way through scores of Michelin stars, became addicted to champagne (before Paris I didn't like it very much) and travelled extensively throughout France and the region. Life's tough, but someone has to do it.
The French played a significant role in the European discovery of Australia and if things had gone differently we could all be speaking French. French navigator Nicolas Baudin first sailed to Australia in about 1793, but two consecutive cyclones prevented him doing any work and he had to take the ship to Bombay for repairs. In 1802 he returned to Encounter Bay, just off South Australia, where he met the British navigator Matthew Flinders who was also there to map the Australian coastline. They could have saved each other a lot of time if they had come to some arrangement – okay you work your way round from here east and I'll head west and when we meet up we can swap notes, although it could have all been lost in translation.
To mark the bicentenary of this event the Australian and French governments released postage stamps and the Embassy threw a big party. Renowned South Australian cook Maggie Beer flew in to cook up a storm and when I heard that she needed someone to help in the kitchen I put up my hand. A number of South Australian ingredients were also flown in for the occasion, including a whole tuna which arrived in what looked like a small coffin. Nobody knew quite where to start with this beast, but fortunately we found a man on the fish stall at the Rue de Grenelle markets who said "Pas de problème" before cutting it into more manageable pieces.
Two days in the kitchen with Maggie was an unforgettable experience and great fun. We laughed a lot. We made delicious goat's cheese and leek tartlets, individual champagne sabayons served in shot glasses and deep fried soft shelled crabs, all crispy and crunchy and served with an Asian dipping sauce. It was impossible for Maggie to make all the food for the party, so the Cordon Bleu cooking school made up the shortfall. Everyone learnt a lesson on how not to serve finger food to a large number of people. Don't send all the waiters carrying food in through the same door. Inevitably guests standing close to this door did extremely well, while those further into the throng got lean pickings. As you can see from the programme it was a wonderful evening.
Flicking through an Australian Women's Weekly magazine at the hairdresser's the other day I came across a quick and easy recipe for pears by Maggie Beer. The recipe uses Maggie's famous verjuice and I have a bottle in the pantry, so I made a mental note of the ingredients and made my interpretation of the dish last night.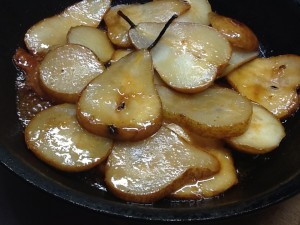 4 large pears (Conference or similar elongated variety)
50g unsalted butter
50g sugar
⅓ cup verjuice
Wash and dry pears, but don't peel or core.  Leave the stalks on for a nice rustic look.  Slice lengthwise about ½ to ¾ cm thick.  Heat butter in a large frying pan, add sugar and stir to dissolve.  Add pears in one layer.  If there are too many, do them in two lots.  Cook slices on both sides until lightly browned, remove then do the remaining slices.  Return all the pears to the pan.  Add verjuice and simmer for a few minutes, shaking the pan and carefully moving the slices around and turning them, to ensure even glazing.  Serve warm with cream or vanilla ice cream.
Serves 4-6