Fruit pies freeze well and are handy to whip out for dessert during the holiday season. Just bake for about half an hour, so it's not quite thoroughly browned, cool and freeze, covered – a shower cap is ideal! When you want to serve the pie thaw (remove shower cap!) and reheat for 20-30 mins in a moderate oven to finish off the browning.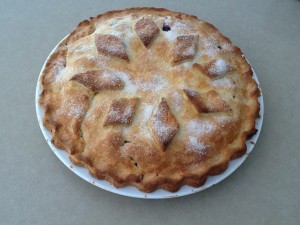 Pastry:
See recipe for Apple and Blackberry Pie
Filling:
About 450-500g frozen blueberries (pkt sizes vary)
grated zest 1 large lemon
juice ½ lemon
½ cup sugar
3 Tbs cornflour
1 punnet fresh blueberries (about 125g)
2 eating apples peeled, cored and diced
1 egg, beaten
Granulated sugar
Make pastry and chill wrapped in plastic wrap. Thaw frozen blueberries. Place in large saucepan with lemon zest and sugar. Heat to boiling point, then add cornflour mixed with lemon juice and cook, stirring until very thick. Add fresh blueberries and diced apple and cool.
Preheat oven to 180°C. Roll out half the pastry to line a large deep dinner plate or similar sized pie dish, trim off excess. Fill with blueberry filling. Roll out remaining pastry and cover pie. Trim off excess pastry, seal and crimp edges. Use any leftover pastry to make leaves to decorate the top. Brush with beaten egg, arrange "leaves" on top, brush those also. Bake for 35-45 mins or until well browned. Or bake for only 25 mins until light golden, remove from oven, cool then refrigerate or freeze until serving time.  To serve put back into a moderate oven for 20-30 mins. Serve with whipped cream or vanilla ice cream.
Serves 12