A slice of quiche and a large salad makes a perfect evening meal in summer. People with bigger appetites can add some boiled new potatoes, with butter and chopped parsley or chives, sprinkled with sea salt and lots of black pepper.  If you have teenage kids a loaf of good old garlic bread won't go amiss. Leftover quiche is nice for lunch next day.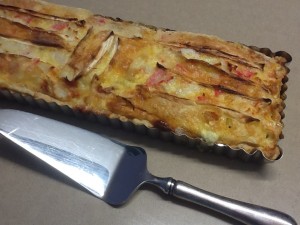 One round or rectangular quiche shell made from shortcrust pastry
1 leek, chopped
1 Tbs butter
1 cloves garlic, crushed
100g pancetta, diced
2 Tbs white wine
1 Tbs flour
2 eggs
3/4 cup cream
salt and freshly ground black pepper to taste
2 Tbs chopped fresh herbs (I used Marjoram, but could be dill, parsley)
250g crab meat
200g brie or camembert, thinly sliced
Pre-heat oven to 180°C.  Bake the quiche shell blind (with foil and beans to weigh down) for 5-10 mins, then remove foil and cook for a few more mins until fully cooked but pale golden in colour. This is the secret to a good quiche which doesn't have a soggy bottom! Meanwhile in a medium sized frying pan cook leek and garlic in butter over moderate heat until soft, but not coloured.  Add pancetta and continue to cook, stirring for 3-4 mins.  Add wine and cook till evaporated, stirring.  Add flour and mix well.  Add herbs and spread into quiche shell.  Top with crab, then cheese.  Beat eggs with cream and season to taste.  Pour carefully into quiche so it's evenly spread.  Bake for 25-30 mins or until well risen and golden.  Serve warm or at room temperature with salad.
Serves 6-8
Variations: use grated hard cheese instead of soft cheese on top.  Use a splash of sherry instead of white wine.  Use a can of drained salmon or tuna, or some whole peeled prawns instead of crab.  Use bacon or ham instead of the pancetta.