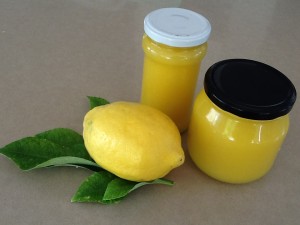 When I moved from the UK to Australia I was amazed to see lemon trees growing in most Canberra gardens. While night time temperatures in winter can be several degrees below freezing, the days warm up sufficiently to allow citrus trees to flourish in a sunny, sheltered spot. So the soil isn't frozen solid for several months, as it can be in northern Europe.
We have a large lemon tree in the courtyard just outside our kitchen and it's always laden with fruit. At about this time of year it's important to pick the remaining lemons, otherwise we won't get a new crop next season. They will keep for a while in the fridge, but it's always a good time to make some Lemon Curd or Lemon Butter, as it's sometimes called.
In the UK where I grew up it was much too cold in winter to grow lemons, so my mother bought them. We could hardly wait for her to finish making this deliciously tangy spread which we devoured on fresh buttered bread or in small pastry tartlets. Try a dollop on some thick Greek yoghurt for a delicious snack.  Or swirl it decoratively through the yoghurt in a tumbler then top with a few fresh raspberries when you need to come up with a last minute dessert. Or make this delicious and quick Blueberry Parfait.
Adding a little salt really makes a difference and brings out the flavours. A Queenslander once told me you should eat fresh pineapple with a light sprinkling of salt, for the same reason.
4 large juicy lemons
4 eggs, beaten
450g (2½ cups) sugar
125g unsalted butter
1/2 tsp salt
Finely grate the rind of the lemons and remove the juice. Place all ingredients in the top half of a double boiler or in a heatproof bowl set over a pan of simmering water. Stir constantly with a wooden spoon until butter melts, sugar dissolves and mixture thickens to the point where it coats the back of the spoon.
Heat clean jars (remove lids first) in microwave on High for 2 minutes. Pour the hot lemon curd into the hot sterilized jars and seal with lids. When cold store in the fridge.
Makes about 2 jars