These little frozen parfaits in shot glasses are perfect to serve after a heavy meal, when no-one feels like eating a large or heavy dessert. I've had this recipe for over 20 years. Sometimes I forget about it and don't make them for a few years, but whenever I do they go down well.
A bottle of mint oil lasts for years. I've had mine so long I can't remember where I bought it. In Canberra you can buy it at The Essential Ingredient in Kingston.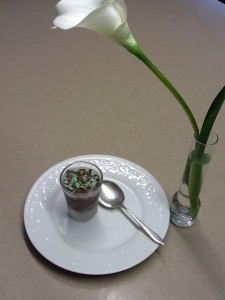 1 cup water
2 Tbs sugar
200g good quality dark chocolate, broken into squares
4 egg yolks
2-3 drops mint oil or essence, to taste
1 Tbs brandy (optional)
250ml cream
Mint chocolates to decorate
Boil sugar and water for 3 minutes. Process in food processor with dark chocolate until smooth. Press down on food processor so it doesn't splash out. Add egg yolks and blend 15 secs. Add mint essence, brandy and cream and blend 10 secs. Pour into a jug then into 8-10 shot glasses and freeze overnight or until firm.
To serve, decorate each parfait with a mint chocolate. In the photo I used a mint chocolate bar which was green in the middle, roughly chopped. Alternatively use a fresh mint leaf. Remove from freezer 20-30 minutes before serving, so they are not rock hard.
Serves 8-10
Note: you can make this without a food processor. Just add chocolate to sugar syrup, stir to dissolve, then mix in remaining ingredients.