When we go to Europe to visit friends and family we usually spend a week in Thailand on the way home. All that galloping around seeing people and having a good time, not to mention all that eating, is exhausting. Breaking the journey allows us to adjust to most of the time difference and arrive feeling refreshed. We love the Thai people, the food and the wonderfully therapeutic massages.
This soup is quite filling, so it's a main-course or lunch time kind of soup rather than a starter. On the table in less than half an hour, it's full of delicious contrasting flavours and textures.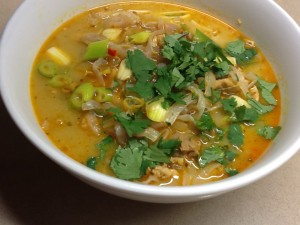 1 large onion, finely chopped
2 Tbs vegetable oil
1 Tbs curry paste (preferably Thai Green or Red, but any will do)
About 400g raw chicken meat (breasts or thighs) finely sliced
1 tin coconut milk (400ml)
1 litre water and 1 chicken stock cube (or use homemade chicken stock)
2-3 heaped tsp grated ginger
2 stalks lemon grass, finely sliced (optional)
1 small red chilli, seeded and finely chopped
1 Tbs palm sugar or brown sugar
2 Tbs Fish Sauce
Juice one lime or ½ large lemon
200g quick cooking Chinese noodles (see note)
2-3 thinly sliced spring onions – white and some of the green part
1 cup beansprouts
½ cup fresh, roughly chopped, coriander
Salt to taste
Heat oil in a large heavy-based saucepan and cook onion until soft but not brown, stirring often. Add curry paste and chicken and cook, stirring for 2 minutes. Add remaining ingredients down as far as the lime or lemon juice. Simmer for a few minutes until chicken is cooked. Add salt to taste, then turn off the heat and add the noodles and spring onions. Cover and leave to stand 2-3 minutes. Place a small handful of beansprouts in 4 large soup bowls. Ladle soup on top and garnish with coriander.
Serves 4
Note: any quick-cook noodles will do, including individual packs of instant noodles.