Of all the posts on Café Cat, the most popular to date is the Beef Korma cooked in a Slow Cooker. When people search on Google for a beef curry cooked this way, my recipe comes up first.
A slow cooker is the perfect way to cook a curry or a stew. As the meat cooks slowly the liquid doesn't evaporate the way it does in the oven, so it's best to add about a quarter or half the amount you would normally use. You can always add more later if necessary.
I've adapted this Thai Massaman Beef Curry by Bill Granger for the Slow Cooker. It's nice and spicy, without being overly hot. If you're going to serve it with rice, we didn't think the potatoes were really necessary, so leave them out if you prefer.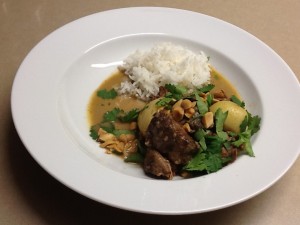 1 tsp crushed dried chilli
1 Tbs finely chopped fresh ginger
2 tsp cumin seeds
Seeds removed from 5 cardamom pods
1 red onion, cut in half
6 cloves garlic
1 stalk lemongrass (white part only)
2 Tbs coriander roots
1 Tbs Tamarind paste
2 Tbs vegetable oil
1.2kg stewing beef (blade, shin, chuck) cut into 3-4cm pieces
400ml can coconut milk
1 Tbs sugar
1 Tbs fish sauce
¼ cup water
400g small potatoes, scrubbed and halved (optional)
To serve:
1 Tbs lime or lemon juice
Fresh coriander sprigs
2 Tbs roasted peanuts, chopped
Steamed rice
In a mortar and pestle pound the chilli, ginger, cumin, cardamom and 1 tsp salt until finely ground. In a food processor whiz the red onion, garlic, lemongrass, coriander root, tamarind paste and 1 Tbs of the oil, until finely chopped, then mix in the chilli-spice mix.
Heat remaining 1 Tbs oil in a large frying pan and brown the meat in 2 or 3 batches, for about 2 minutes each side, then place in slow cooker. Add the curry paste to the frying pan and cook, stirring, for 2 minutes or until fragrant. Add to slow cooker with the coconut milk, sugar, fish sauce, potatoes (if using) and water. Cover and cook on low for 6-8 hours or until beef is tender. Stir every couple of hours, adding a little more water if necessary.
To serve: Add lime or lemon juice, check seasoning and serve garnished with the coriander and peanuts, with steamed rice on the side.
Note: If preferred curry can be cooked in a heavy casserole with a lid in the oven where it will take about 3 hours at 160°C. In this case increase the water to ¾ cup and add the potatoes, uncooked, about halfway through cooking time. For low-carb version omit the potatoes.
Serves 4-6