This layered nutty meringue cake served with fruit originated in the town of Dax, in south west France. Dacquoise is sometimes filled with butter cream – made from icing sugar and butter – but I think unsweetened whipped cream makes a better contrast to the sweetness of the meringue.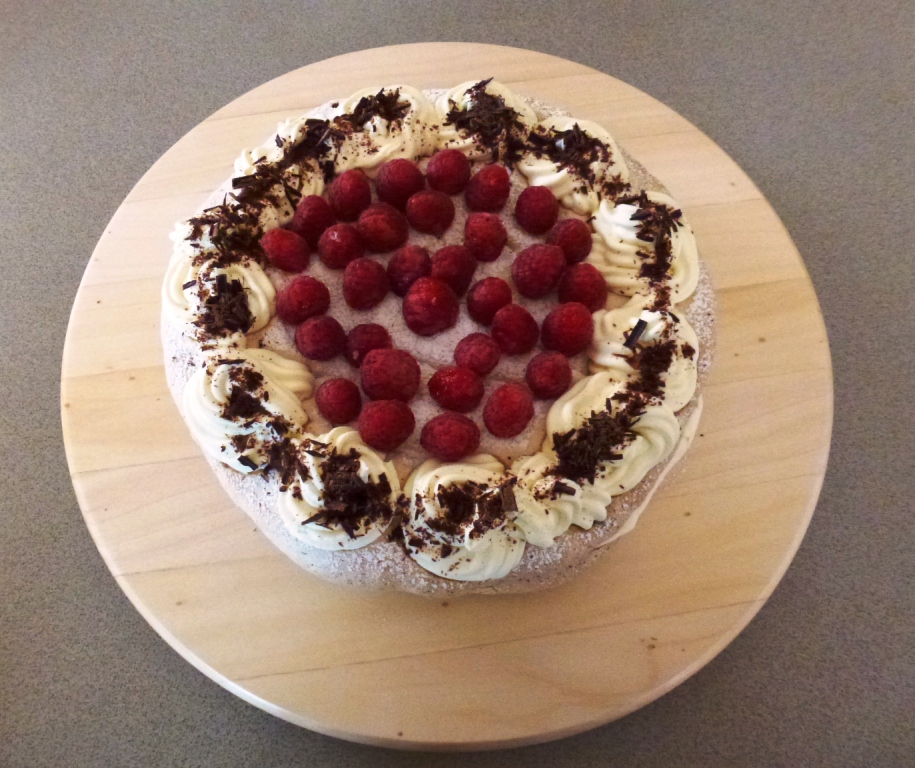 150g blanched almonds or skinned hazelnuts
6 egg whites
300g caster sugar
pinch cream of tartar or salt
To finish:
600ml thick cream
2 Tbs icing sugar
150g dark chocolate, grated
About 2 cups fresh raspberries
To Serve:
Raspberry Coulis (optional)
Preheat oven to 150°C. Process almonds or hazelnuts in food processor until finely chopped. It's best to do your own rather than buying ready-ground nuts. Line 3 baking sheets with foil or baking paper and draw a 20cm circle on each, no need to grease. Whip egg whites with electric beaters until soft peaks then add the cream of tartar or salt and a tablespoon of the sugar and continue to whisk for a minute. Gradually add remaining sugar until you have a thick, glossy meringue. Fold in the nuts, divide the mixture between the circles drawn on the baking sheets and spread into 3 even rounds. Bake for an hour, then remove from the oven and leave to cool. Can be made the day before.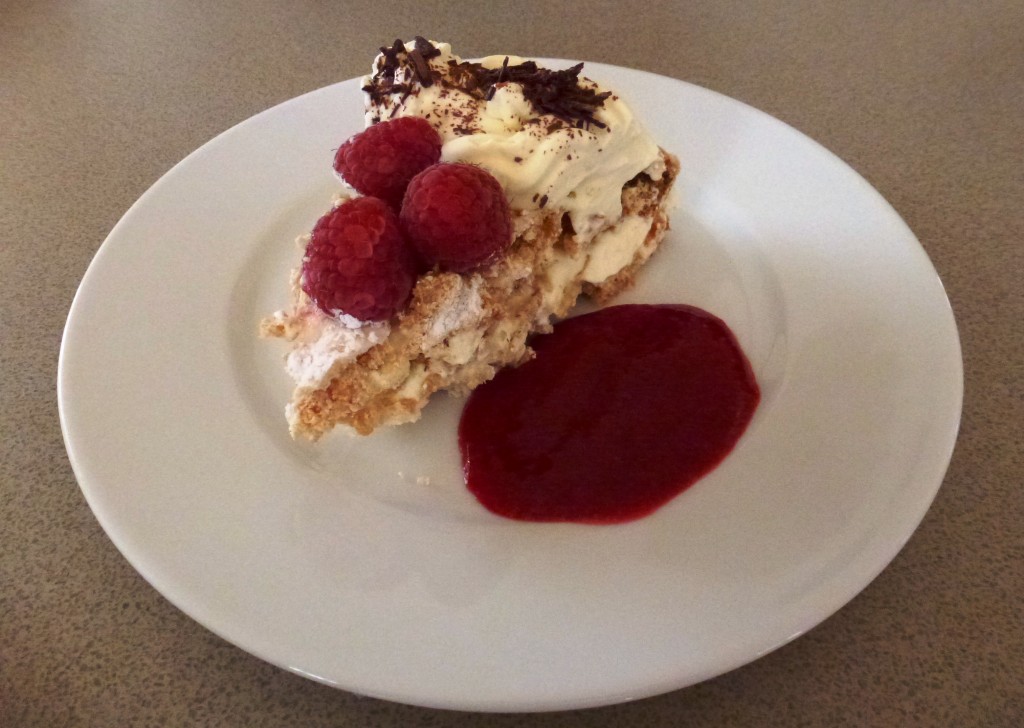 Peel foil off meringues. Place one meringue on serving plate, flat side down. Whip cream until thick and use about a third to spread over meringue, sprinkle with grated chocolate and a few raspberries. Top with second meringue and cover with another third of the cream, some grated chocolate and a few raspberries. Place third meringue on top, flat side down. Sieve icing sugar over the top. Pipe remaining cream in rosettes around the edge, sprinkle with remaining grated chocolate and decorate with raspberries. Slice and serve with Raspberry Coulis, or just as it is.
Variations: make an apricot sauce instead: soak 100g dried apricots in water overnight, drain then place in a small pan, add a cup of water, juice of half a lemon and sugar to taste. Simmer 5-10 minutes or until tender, puree in food processor, then chill.
Note: meringue can be filled with cream up to 3 hours before serving.
Serves 10-12