I haven't cooked a shoulder of lamb for some time, but we ordered one recently in a restaurant, to share between four, and it was delicious. When I saw them for only $7.99 a kilo at a local butcher's this week I bought one.
A roast is perfect to serve in summer or winter because you can adjust the accompaniments to suit the weather. Oven-roasted vegetables served hot in winter or at room temperature in summer. A tabouleh, lentil or couscous salad or my Spinach Salad with Red Dressing are all good side dishes in summer.
As the lamb was roasting delicious smells wafted through the house. Our golden retriever Danske and our son's chocolate lab Hershey, who was staying with us for the weekend, twitched their noses appreciatively each time they stirred from dozing.
Lamb cooked this way is moist with a delicious lemony-herby flavour. The outsides which have been in contact with the pan are chewy and slightly crispy. Very moreish. I served it with oven-roasted parsnips and carrots, with a drizzle of honey. The dogs had some of the pan juices from the lamb mixed with their biscuits for breakfast, which caused much excitement and tail-wagging.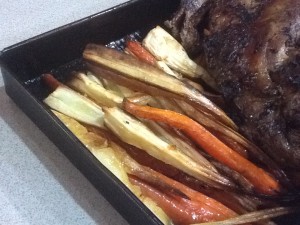 1 shoulder of lamb, bone-in, weighing 1.8kg to 2kg
¼ cup olive oil
Grated rind and juice of 1 lemon
2 Tbs fresh rosemary sprigs
4 cloves garlic, crushed
½ cup dry white wine
½-1 tsp salt
Preheat oven to 140°C. Place remaining ingredients except wine in a food processor or mortar and pestle and crush to a paste. Smother the lamb with this paste then place in a deep roasting pan, pour in the wine and cover with foil. Roast for 5-6 hours, or until lamb is very tender and falling off the bone. Ovens vary, so if the meat is ready but not brown enough, remove foil, turn oven up to 200ºC and put the meat back for about half an hour – you want some nice brown crispy bits. Serve with vegetables or salad.
Serves 4-6
Variations: use mint and oregano instead of rosemary.
Oven-roasted parsnips and carrots – peel 4 parsnips and quarter lengthwise. Peel (if necessary) 4-6 carrots and quarter or halve lengthwise depending on size. Place in a roasting pan, in a single layer. Drizzle with a little olive oil and roast for 30-40 minutes at 180°C. If you're cooking them with the lamb at 140°C they will take longer – between an hour and an hour and a half. Turn and baste from time to time. Season to taste with salt and pepper and drizzle with a little honey.