When we married, Matthew had been surviving as a bachelor for several years. The core of his culinary repertoire was contained in a small notebook with a green cover. It consisted of about 20 recipes, written out by his stepmother and sisters before he headed off to Geneva on his first posting, to make sure he didn't starve.
Pork Chops with Orange Sauce was one of the recipes in that book and it went on to become a firm family favourite as our kids were growing up. The original version just coated the chops in flour – I added the egg and crumb layer. Fiddling with recipes is, I have to admit, something of an affliction. I don't make this dish very often these days, but when I do I am reminded that back in the days before Master Chef and the infinite number of recipes available on the internet, we didn't eat too badly at all. This "retro" dish is simple, straightforward and delicious.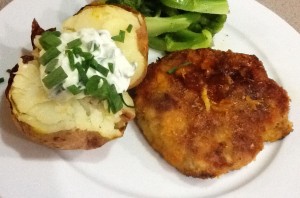 4 pork chops or pork Scotch fillet steaks
seasoned flour
1 beaten egg
Dry breadcrumbs
1 Tbs butter
1 Tbs oil
Juice and grated rind 2 large oranges (use 3 if smaller)
2 Tbs brown sugar
2 Tbs grated fresh ginger (optional)
Preheat oven to 180°C. Remove bones and excess fat from chops, then hammer them out a little bit with meat mallet. Coat in seasoned flour, shaking off the excess. Then coat in beaten egg, then breadcrumbs, pressing them on well.
Heat butter and oil in a large frying pan and fry chops on both sides until golden. Place in an oven-proof dish in a single layer. Mix orange juice, rind, sugar and ginger and pour over. Can be prepared ahead to this stage and kept in the fridge, covered for several hours. Bake 45-60 mins uncovered at 180°C or until tender and browned. There should still be some sauce left, so if you check halfway and find it has mostly dried up, add few Tbs of water. As you can see in the photo my sauce had virtually disappeared!
Serve with baked potatoes topped with a dollop of sour cream mixed with snipped chives or spring onion tops and a green vegetable. Scrub the potatoes and put them in the oven on the shelf below the pork. Large potatoes will take 15-20 minutes longer than the pork, so stick them in early.
Serves 4