This recipe was inspired by a carpaccio I ate recently at The European, a restaurant which opened in the Canberra suburb of Kingston in November last year. Unfortunately the establishment didn't survive and recently closed its doors.
The carpaccio shown in the photo is probably larger than you would need as a starter. We had it for lunch.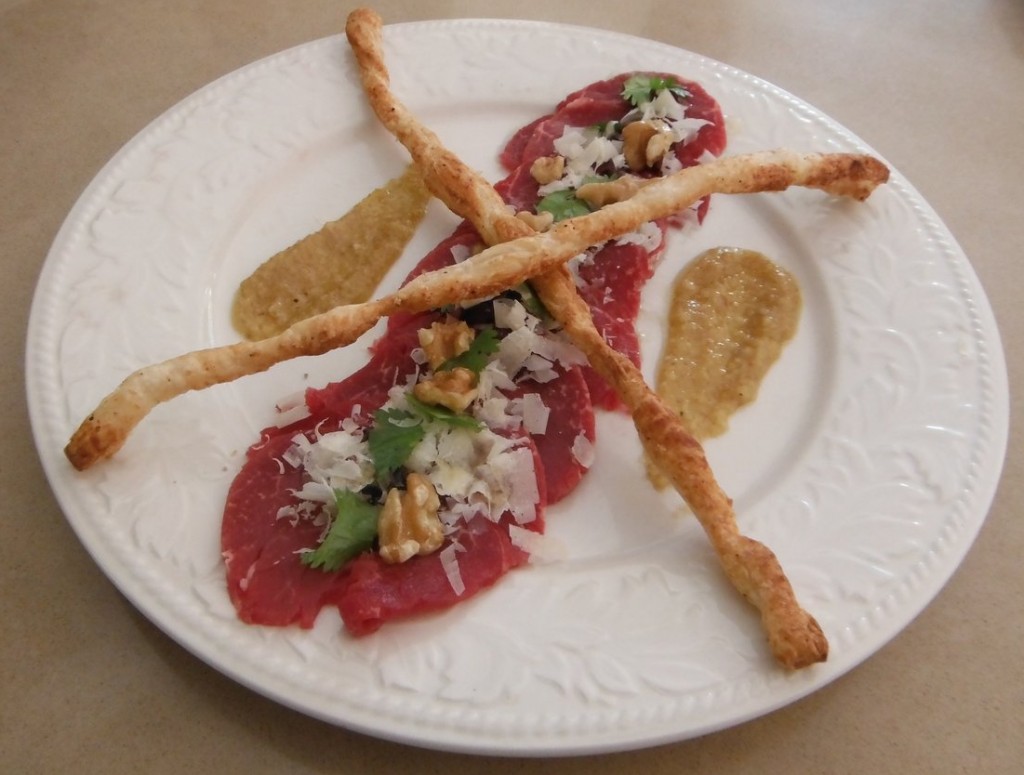 300-400 fillet of beef, trimmed (see note below)
Walnut pesto:
1 cup walnuts
1 small clove garlic, crushed
Pinch salt
About 1/3 cup olive oil
Topping:
About 4 Tbs diced black or green olive flesh
About 4 Tbs coarsely chopped walnuts
Some microherbs or small coriander leaves
About 4 Tbs coarsely grated Parmesan
To serve:
Truffle oil or extra virgin olive oil
Lemon juice
8 quick Grissini (see below) or purchased Grissini
Make Grissini (see below). Trim meat and put in the freezer (see note below). Make pesto: place walnuts and garlic in food processor and process. With motor running add enough olive oil to make a thick paste, stopping halfway to scrape down the sides. This can be made ahead and keeps for at least a week.
Thinly slice beef (this is easier to do if the meat is semi-frozen) and arrange down the middle of four serving plates, in overlapping circles. Smear some walnut pesto down each side. You will probably have some beef and some pesto left over.
Sprinkle with the olives, walnuts, herbs or coriander and the Parmesan. Drizzle with truffle or olive oil and lemon juice to taste. Arrange two Grissini on top of each serving and serve with a salt and pepper mill.
Serves 4-6
Note: I bought a one kilo vacuum pack of beef fillet from Aldi, cut off about 500g from the wide end for the carpaccio and trimmed off the small amount of visible fat and tendon. I then rolled the meat tightly in plastic wrap to achieve a neat cylinder about 4cm in diameter. I put it in the freezer for a couple of hours, so it was semi-frozen and easy to slice thinly. I cut the rest of the beef into strips and froze it to make a Stroganoff.
Quick Grissini
Grissini are usually made with bread dough. This is a quick version.
2 sheets bought puff pastry, thawed
4 Tbs finely grated Parmesan
Salt and freshly ground black pepper
Lay pastry sheets on a work surface. Sprinkle with parmesan and season with salt and pepper. Press the cheese and seasonings into the meat with the heel of your hand. Cut pastry into thin strips about 1 cm wide then twist into spirals. Bake in a hot oven on biscuit trays lined with paper for about 15 mins or until golden brown and crisp. Turn them over halfway through the cooking.
Makes about 20