Sunday's a good day for a leisurely cooked breakfast and about 3 weeks ago I decided to make this sweet potato rosti which I had seen in the free brochure published monthly by Coles supermarket and available at the check out.
Sweet potato, bacon, onion and thyme – preferably fresh – is a winning flavour combination, but I had to make this four times before I got it right. The first time I made one large rosti, as per the recipe, but the outsides started to burn before the middle was properly cooked. Second time I made individual rostis, like fritters, but they had a tendency to fall apart. Third time I added an egg and a bit of flour to the mixture and again made small fritters, but the flavour wasn't the same.
The original recipe said to microwave the whole sweet potato for five minutes before grating it, but this overcooked the outside while leaving the inside raw. So on my fourth and final attempt, instead of microwaving the sweet potato I stir fried the mixture and then made it into one large rosti. This worked well and here's my version of the recipe!
To make a more substantial meal serve rosti on a slice of buttered toast, with a green salad on the side.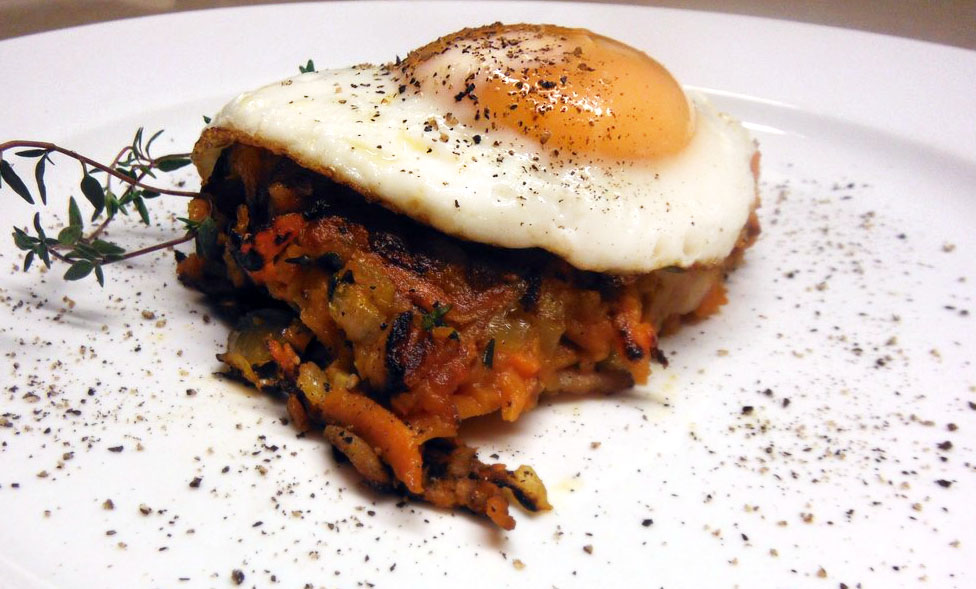 1 large sweet potato (about 800g)
100g bacon, diced
1 brown onion, finely diced
3 tsp finely chopped fresh thyme (or use dried)
1 tsp salt
Freshly ground black pepper
4 eggs
Olive oil
Peel and grate the sweet potato into a bowl. A food processor with a coarse grating disc makes this a breeze. Alternatively use the coarsest side of a hand grater. Mix in bacon, onion, thyme, salt and pepper.
Heat a little olive oil in a medium sized non-stick frying pan. Add sweet potato mixture and stir fry for 5-10 minutes, or until the mixture has softened. Heat a little oil in a smaller omelette pan about 20 cm in diameter. Pack sweet potato mixture into the pan and smooth the surface, pressing down with a spatula. Cook over medium heat for 5-10 minutes or until golden underneath. Loosen around the edges, then place a plate on top and invert the pan so the rosti ends up on the plate. Slide back into pan, adding a bit more oil if necessary. Cook for 5-10 minutes on the other side.
Meanwhile in another pan, fry the eggs sunny side up, or however you like them.
Cut rosti into 4 and arrange on individual serving plates. Top each serving with a fried egg.
Serves 4