These puddings are quick and easy and all the preparation can be done in advance. Make them in coffee cups or small ramekins and keep them for up to 24 hours in the fridge, covered, until you're ready to cook them.
The puddings aren't very sweet but the ice cream is, making a nice contrast. If you can't be bothered making the ice cream, just serve the puddings with cream. The recipe serves six if you use smaller cups and is easy to double.
Unfortunately the ice cream started to melt before I took the photo, so it looks even more like a cappuccino!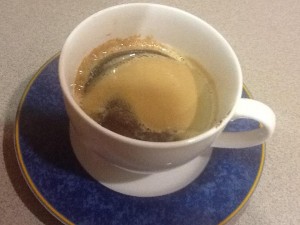 Coffee ice cream:
300ml thick cream
½ of a 395g can condensed milk
2 Tbs instant coffee mixed with 1 Tbs boiling water
Puddings:
125g unsalted butter
200g dark chocolate, broken into squares
1 Tbs instant coffee mixed with 1 Tbs boiling water (see note)
4 eggs
2 Tbs plain flour
For the ice cream, whip cream with electric beaters until soft peaks form, then whip in the condensed milk and the coffee until thoroughly combined. Scrape into a plastic container with a lid and freeze for several hours or overnight.
For the puddings, lightly oil 4 to 6 coffee cups or small ramekins. Melt butter in microwave. Add chocolate and stir till dissolved, then mix in coffee mixture. Thoroughly beat eggs with a fork, then mix into chocolate mixture with flour. Divide between the coffee cups and refrigerate, covered, until serving time.
Preheat oven to 200°C. Bake puddings for 10-11 minutes until nicely risen. They will still be soft inside. Serve with a scoop of coffee ice cream on top.
Serves 4-6
Note: if preferred leave the coffee out of the puddings and just put it in the ice cream.