Black pudding is traditionally eaten in Britain, Ireland and Scandinavia. They also eat it in France and Spain that I know of and several other European countries probably have something similar. It's basically a sausage made from pork blood, oatmeal and spices.
In the UK where I grew up black pudding was usually served as part of a traditional cooked breakfast, with fried eggs, bacon and mushrooms. It is in fact fully cooked when you buy it, but the flavour and appearance is improved by crisping it up in a frying pan.
In the 1880s a butcher in the West of Ireland called Edward Twomey made his own black pudding which he called after the rural town where he lived. Clonakilty black pudding is still going strong today, with the secret spice blend being handed down through the generations. The recipe was recently shared with an Australian producer, so if you would like to try some please call Cheryl Walsh on 0406 293 691. At the moment they have black pudding and white pudding – which contains pork meat and suet but no blood – with traditional Irish sausages due to be launched mid-February.
We were recently given a Clonakilty black pudding by some Irish friends to try. Black pudding and scallops is a flavour combination which goes together extremely well. So that was my starting point in creating this dish.
The "nutty" black pudding provided a perfect contrast to the creamy scallops, while the pea puree added just the right amount of sweetness – as well as a splash of colour – and the bacon provided a touch of crispy saltiness. Delicious.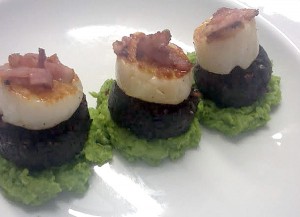 2 cups frozen peas
6 large scallops without roe
1 Tbs vegetable or olive oil
3 slices bacon, rind removed, finely diced
6 slices black pudding about 1.5cm thick (about 150g)
Salt and freshly ground black pepper to taste
50g butter
Cook peas in boiling salted water until tender. Dry scallops thoroughly with paper towels and season lightly. Heat oil in a medium-sized frying pan and cook bacon until crispy, stirring from time to time. Remove and drain on paper towels. In the bacon fat remaining in the pan, fry black pudding for a minute or two on both sides. Remove and put with the bacon. Lastly cook the scallops for a minute or two each side, or until golden brown.
Drain peas then whiz in food processor with butter, salt and pepper to taste until fairly smooth. Place three dollops of pea puree on two serving plates. Top each with a slice of black pudding and a scallop. Garnish with the bacon and serve immediately.
Note: if liked pass pea purée through a sieve to make if smoother, but I quite like it slightly chunky.
Serves 2