Make healthy low-carb "spaghetti" from zucchini, carrots and other vegetables using a Zyliss Julienne Slicer/Peeler. This gadget is really easy to use as you can see from this you tube video. In Canberra you can buy them at the Essential Ingredient.
To serve as a vegetable, stir-fry quickly in a frying pan in a little oil or butter then add seasoning, herbs and maybe a dollop of sour cream. Or use the "spaghetti" in salads or to make this delicious stir fry with prawns.
Zucchini Spaghetti with Prawns
4-6 medium to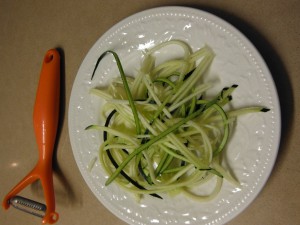 large zucchini (courgettes)
⅓ cup olive oil
2-3 cloves garlic, crushed
1 tsp dried chilli flakes) or use some fresh chilli
Salt and freshly ground pepper
400g peeled green prawns, tails intact (weight after peeling)
¼ cup lemon juice
¼ cup finely chopped parsley
To serve:
Extra Virgin olive oil
1 small red chilli, de-seeded and finely sliced
Heat oil in a large frying pan or wok on medium-high heat. Add garlic, chilli, salt and pepper and cook stirring for a minute. Add prawns and continue to cook, stirring, for 3-4 minutes or until prawns turn pink and are nearly cooked. Add the "spaghetti" and continue to stir fry for a minute or until prawns are cooked and spaghetti is " al dente " Add parsley and serve drizzled with a little oil and garnished with a little extra chilli.
Serves 4