When we lived in Pretoria in the late 1980s we found a fabulous French restaurant called La Madeleine. There was no written menu so Belgian chef-owner Daniel Leusch would come to each table and explain what was available that day. His Lyonnaise Salad was introduced in the following way.
"And today, for starters, we 'ave a leetle salade, wif a warm poshed egg, garneeshed wif some leetle crispy lardons, some freshly made croutons and 'ollandaise sauce. Or, we 'ave….."
And so he would go on until he had described everything and we were left, drooling, to make decisions.
It's twenty-five years since we left Pretoria but La Madeleine is still going strong, with Daniel and his wife Karine's daughter Anne in charge of the kitchen. Since then my version of Daniel's Salade Lyonnaise has become one of my favourite lunches. But you do have to be in the kitchen at the last minute, so I usually only make it for two, maximum four people. If you don't have time to make Hollandaise Sauce substitute mayonnaise, preferably home-made. For hungry people serve two eggs instead of one.
As it's one of the signature dishes of the French city of Lyon I ordered this salad in three different bistros while we were staying there a couple of years ago. What a disappointment! Soggy bacon or croutons, over-cooked eggs and indifferent salad greens meant that none of them lived up to their reputation. Take me back to Pretoria any time!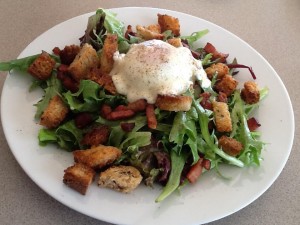 4-6 cups mixed small salad leaves
2 slices bread (preferably something rustic like sourdough)
Olive oil
100g smoked bacon in one piece (called speck in Australia)
2 eggs
Salad dressing:
1 cup mild vegetable oil (e.g. Canola)
¼ cup cider vinegar
1 Tbs Dijon mustard
1 Tbs honey (optional, or use less)
Salt and pepper to taste
1 clove garlic, peeled and halved
Quick Hollandaise Sauce:
50g butter
2 egg yolks
1 Tbs cream
1 Tbs lemon juice
Salt and freshly ground black pepper to taste
For Hollandaise sauce place butter in a small bowl and microwave for 30 secs. With a small hand whisk, beat in yolks, then cream and lemon juice. Microwave for 45 secs, stopping to beat every 10-15 secs. This is important to avoid scrambling the eggs! Season then cover and keep warm by standing the bowl in a larger bowl containing hot water.
Brush both sides of bread with olive oil, cut into croutons then either bake in a hot oven on a tray lined with baking paper for 5-10 mins or fry in a non-stick frying pan until golden and crunchy.
Meanwhile poach eggs until done – whites firm, yolks still soft. While they are cooking, prepare the lardons – cut bacon into thick slices, then into little chunks. Fry in a non-stick frying pan with a tiny bit of oil and drain on paper towels.
Place all ingredients for the salad dressing in a screw top jar and shake vigorously. Mix salad greens with some dressing (see note below) and divide between 2 plates. Place a poached egg in the centre and spoon some Hollandaise sauce over. Sprinkle the croutons and lardons around the egg.
Serves 4 as a starter or light lunch
Note: Any unused French dressing will keep for up to a month in the fridge so I often make double or triple the recipe. Don't crush the garlic, just cut it in half, so the flavour isn't overpowering. The French wouldn't put honey in their dressing (I love it especially as I keep my own bees!) so if you want to be authentic leave it out.