Sweet potatoes keep for a couple of weeks in the fridge. They're great for adding to soups or casseroles and a good stand-by vegetable to serve mid-week, when you've run out of other options. One of my favourite ways to serve pan fried fish is on a bed of mashed sweet potatoes.
This sweet potato soup is perfect for lunch or supper. Use any kind of bread to make the toasts – I used English muffins.
25g butter or 2 Tbs olive oil
1 large onion, peeled and diced
2 cloves garlic, crushed
1 kg sweet potatoes, peeled and cubed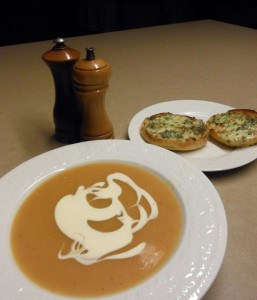 1 medium potato, peeled and cubed
1 litre (4 cups) chicken or vegetable stock
2 tsp mixed spice or cinnamon
Salt and freshly ground black pepper
Milk
Cream
Cheesy Thyme Toasts
4 large thick slices sourdough bread (or 4 muffins, split)
1 cup grated cheddar
3-4 tsp fresh thyme leaves, chopped (or 1-2 tsp dried thyme)
pinch salt
¼ cup cream
Heat butter or oil in a large heavy-bottomed saucepan. Add onion and garlic and cook, stirring often, for a few minutes, or until softened but not brown. Add sweet potato, stock and mixed spice or cinnamon. Simmer for 20 mins or until vegetables are soft then allow to cool a bit.
Blend soup in a blender or food processor, in two batches, until smooth. Return to the saucepan and add enough milk to make to desired consistency. Season to taste. Reheat and serve topped with a swirl of cream and accompanied by the toasts.
Lightly toast bread or muffin halves in a toaster. Meanwhile turn grill on to high. Mix cheese, thyme, salt and cream and spread over the toasts. Place under hot grill until bubbly and golden.
Serves 4