I love dense, nutty, chunky bread and this recipe, adapted from  Adventure Bread by Josey Baker, ticks all the boxes.
It's gluten-free and contains no saturated fat. Feel free to substitute similar ingredients in this recipe, but don't omit the psyllium husks (sold in most supermarkets or health food stores) because it acts as a binder, taking the place of the gluten found in wheat flour.
While you can eat this bread as it is, I think it's much nicer toasted, with honey, jam or cheese. A slice of toasted and buttered seed bread with a smear of vegemite and a slice of Swiss cheese or cheddar really hits the spot for me. You will find it's quite filling and it's what I often have in the evening, when I've decided to skip dinner after a big lunch.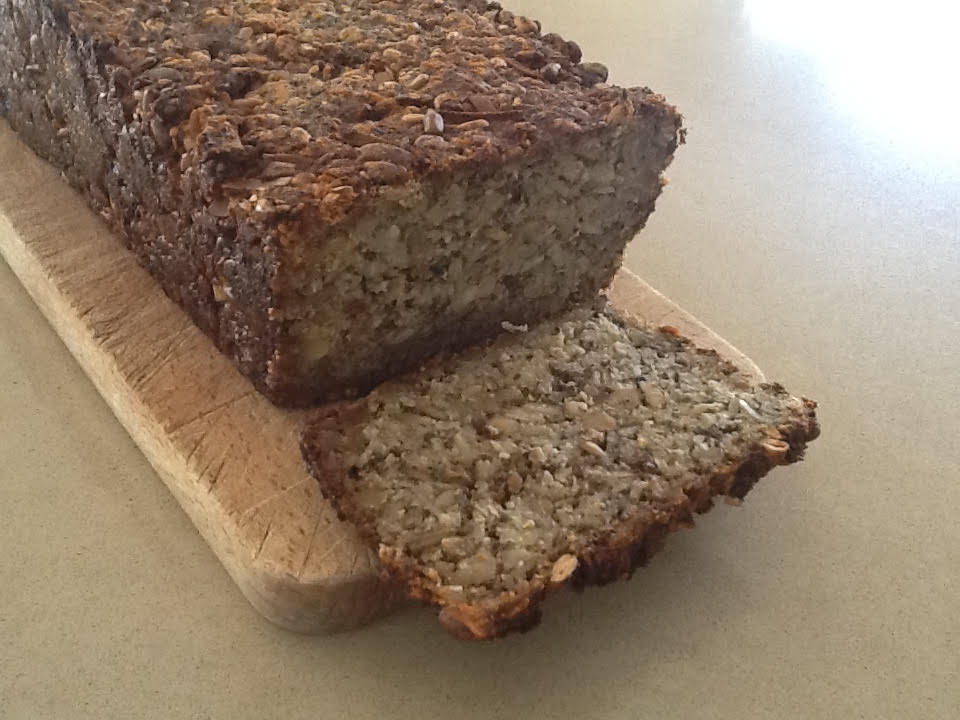 ¾ cup nuts (almonds, hazelnuts, pine nuts, walnuts or whatever you fancy)
1 cup sunflower seeds (hulled)
½ cup pumpkin seeds (pepitas)
1/3 cup psyllium husks
2¼ cups rolled oats
3 Tbs chia, quinoa or sesame seeds
¾ cup flax seeds or linseeds (see note below)
2 tsp salt
2 Tbs maple syrup or honey
¼ cup olive oil
2½ cups water
Place all ingredients in a large bowl and mix well. Cover and refrigerate for several hours or overnight.
Preheat oven to 190°C. Tip into an oiled loaf tin and smooth the top. The one I used is 25x12cm and 10cm deep (approx 10x5x4 inches) which the recipe fills to within 2-3 cm of the top and as the bread doesn't rise that's fine. If you don't have a big loaf tin use two smaller ones.
Bake for 40 minutes then tip the bread out of the tin and put it back in the oven on a flat tray for a further 20 minutes. Cool on a cooling rack.  Store well-wrapped in the fridge for up to a week.
Wait until it's completely cold before slicing about 1cm thick. I like to individually wrap each slice and freeze them in a plastic container. Toast from frozen though they will need two goes.
Serve sliced and toasted
Makes 1 loaf
Note: Flax seeds and Linseeds are the same thing. Known as Linseeds in Australia and Flax seeds in the USA.