We recently spent a week in Slovenia – two days in the capital Ljubljana and 4 days in Bled. If you haven't been to this part of the world I recommend you put it on your list. Amazing scenery with dominating mountains, crystal clear turquoise blue rivers and majestic forests. The neat little houses each had a neat little woodpile and a well kept veggie garden. Everything was spotlessly clean and well-maintained. A good way to see some of this beautiful scenery is to arrive in Ljubljana by train from Vienna, which takes between 5 and 6 hours.
In late summer and early autumn farmer's markets in continental Europe sell a variety of wild mushrooms – porcini and ceps to name two that I am familiar with. One of the culinary highlights of our stay in Slovenia was a salad made with wild porcini and garnished with shaved parmesan and crispy bits of prosciutto. In Australia you can't find wild porcini (well that's what I thought, see below) so I used a mixture of shitake and enoki mushrooms to recreate it back home. It was not the same but still delicious.
After doing some research on the internet I discovered that wild porcini mushrooms have recently been found growing in parts of South Australia and Victoria. Their location is a well kept secret and any that are sold are snapped up by top chefs for between $60 and $120 a kilo. They apparently like similar growing conditions to truffles and can be found under pine and oak trees.  I have thought about blitzing some dried porcini in the food processor and sprinkling the powder under a large oak tree in our garden. Might work?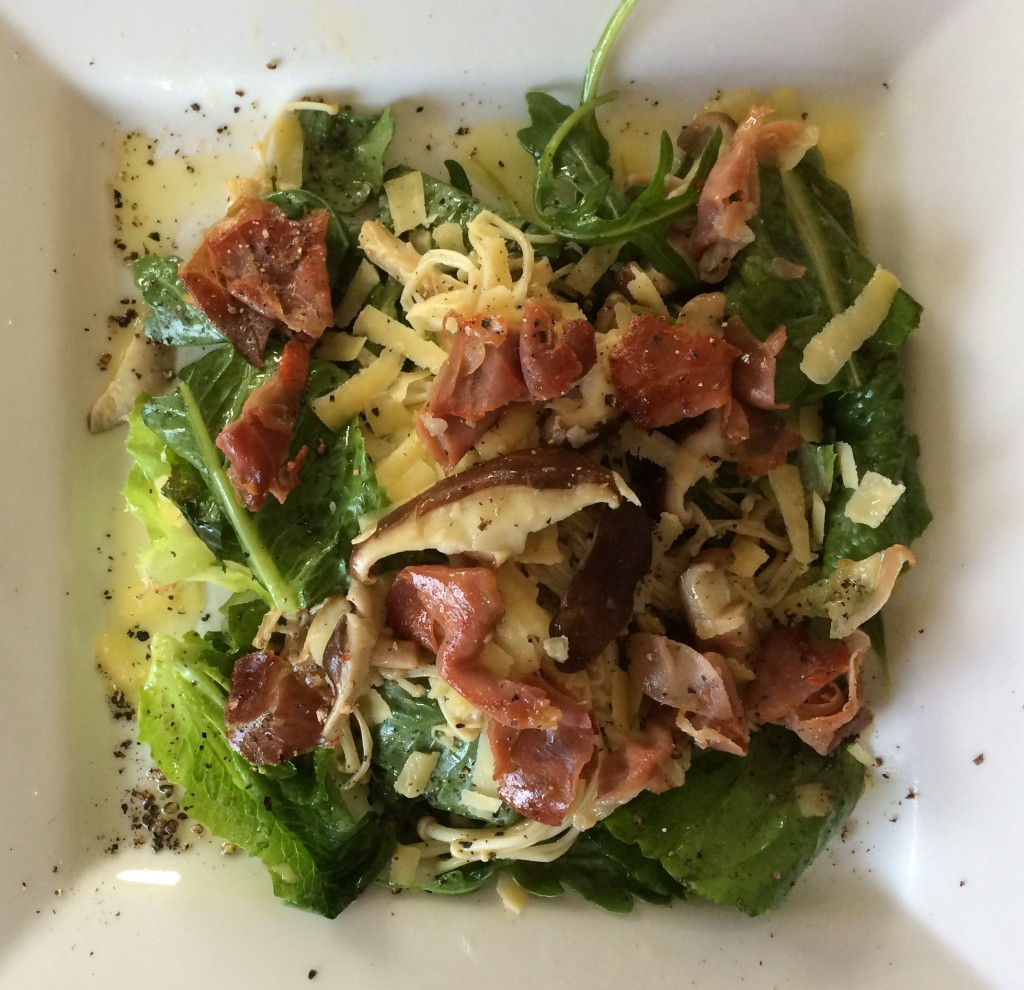 6 handfuls rocket and/or baby salad leaves
Olive oil and lemon juice or white wine vinegar
1 tsp honey (optional)
salt and pepper to taste
400g wild porcini (I used enoki and shitake)
olive oil and 1 clove garlic, crushed
200g shaved Prosciutto
100g shaved Parmesan cheese
Toasted pine nuts (optional)
Lightly dress salad leaves with a simple dressing made with olive oil, lemon juice or white wine vinegar, a little honey and salt and pepper to taste. Arrange on four serving plates. Slice or cut  up the mushrooms and mix them with a little olive oil and crushed garlic. Add a little salt and pepper to taste. Pan fry the mushrooms in a non-stick pan over high heat, stirring, for 3-5 mins or until lightly browned. Divide mushrooms between the four serving plates. Cut Prosciutto into small bits (I used scissors) and add to the pan. Cook over high heat, stirring, until crispy. Divide amongst serving plates, top with Parmesan and pine nuts if using – I didn't in the photo but they would make a nice addition. Drizzle some olive oil around the salad and sprinkle with some coarsely cracked black pepper.
Serves 4