Cindy is a flight attendant with United Airlines and we met through mutual friends when we were all living in Paris, some 15 years ago. After a few years working out of Paris she moved back to Chicago and has been asking us to visit ever since.
At last we made it. On a balmy evening in September we walked out of the arrivals hall at Chicago's O'Hare airport and there was Cindy, waving furiously from her open-top vintage BMW. With our luggage squashed into the boot and half of the back seat we set off on a Chicago-by-night city tour, on our way to Cindy's centrally-located apartment.
Cindy has been just about everywhere and I don't only just mean United Airlines destinations. I mean from Anchorage to Timbuktu. When she visits a city she leaves no stone unturned. Tuesdays the museums are free, she said, so the morning after we arrived we crossed the Museum of Contemporary Art off the long list of things we had to fit into our six days in Chicago.
What a fabulous city. Wonderful architecture, a great public transport system and lots of free concerts and shows. Cultural highlights included a free two and a half hour concert of operatic arias in Millennium Park, with a full orchestra and choir. And a free lunchtime piano and violin concert at the Chicago Cultural Centre, an amazing Art Deco building which we toured afterwards. Cindy had acquired free passes for me to join her pilates classes at the exclusive East Bank Club, which enjoyed the patronage of Obama and Oprah when they lived in Chicago. And if one of the bars was serving free cocktails you can be sure that Cindy knew about it.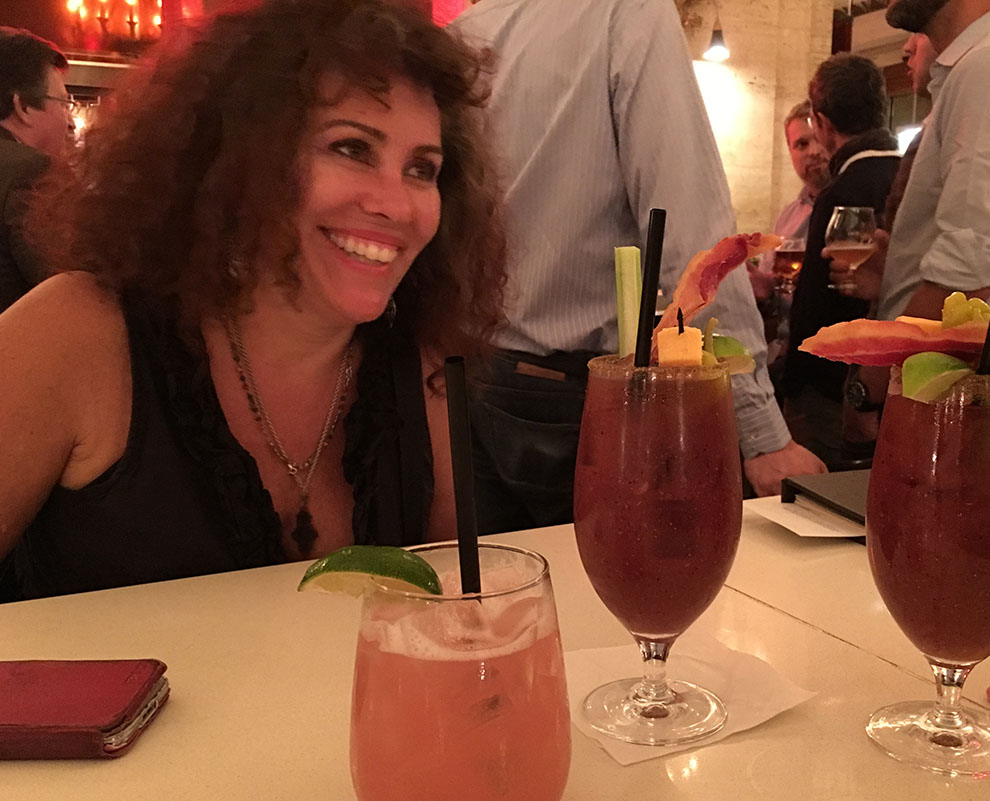 Culinary highlights included a lobster sandwich at the French Markets – simple but so good – a delicious lunch from one of the many restaurants at Eataly, dinner at Nico Osteria and the $25 three course lunch at one of Nico Osteria's sister restaurant Blackbird.
At Nico Osteria we sat on bar stools looking into the kitchen and, by asking a few culinary questions, soon built up a rapport with the sous chef. The head chef, meticulously checking each dish before it left the kitchen, Gordon Ramsey-style, decided we were foodies and sent out some extra dishes for us to try. Baskets of colourful tomatoes, large and small adorned the bustling kitchen. They were at the tail end of a tomato-inspired menu, the chef explained, and in three days everything would change.
We decided to share some bruschetta and they were all delicious. Today's recipe is inspired by Nico Osteria's Bruschetta with Chicken Liver Mousse, Marinated Onion and Lemon Honey. Instead of the Lemon Honey I used Tomato Baharat Jam, which goes so well with all kinds of pâté. Their chicken liver mousse had a bit of a kick, but I decided not to add chilli to mine.
The following day we had lunch at Blackbird and told the Maitre d' that their set price menu had been highly recommended by the chef at Nico Osteria. Say no more – we were treated like family, with complimentary champagne and an amazing Lyonnaise-type salad, served in a crispy potato basket with a soft-poached egg on top arriving before our three course meal.
If you've never been to Chicago I suggest you put it on your list.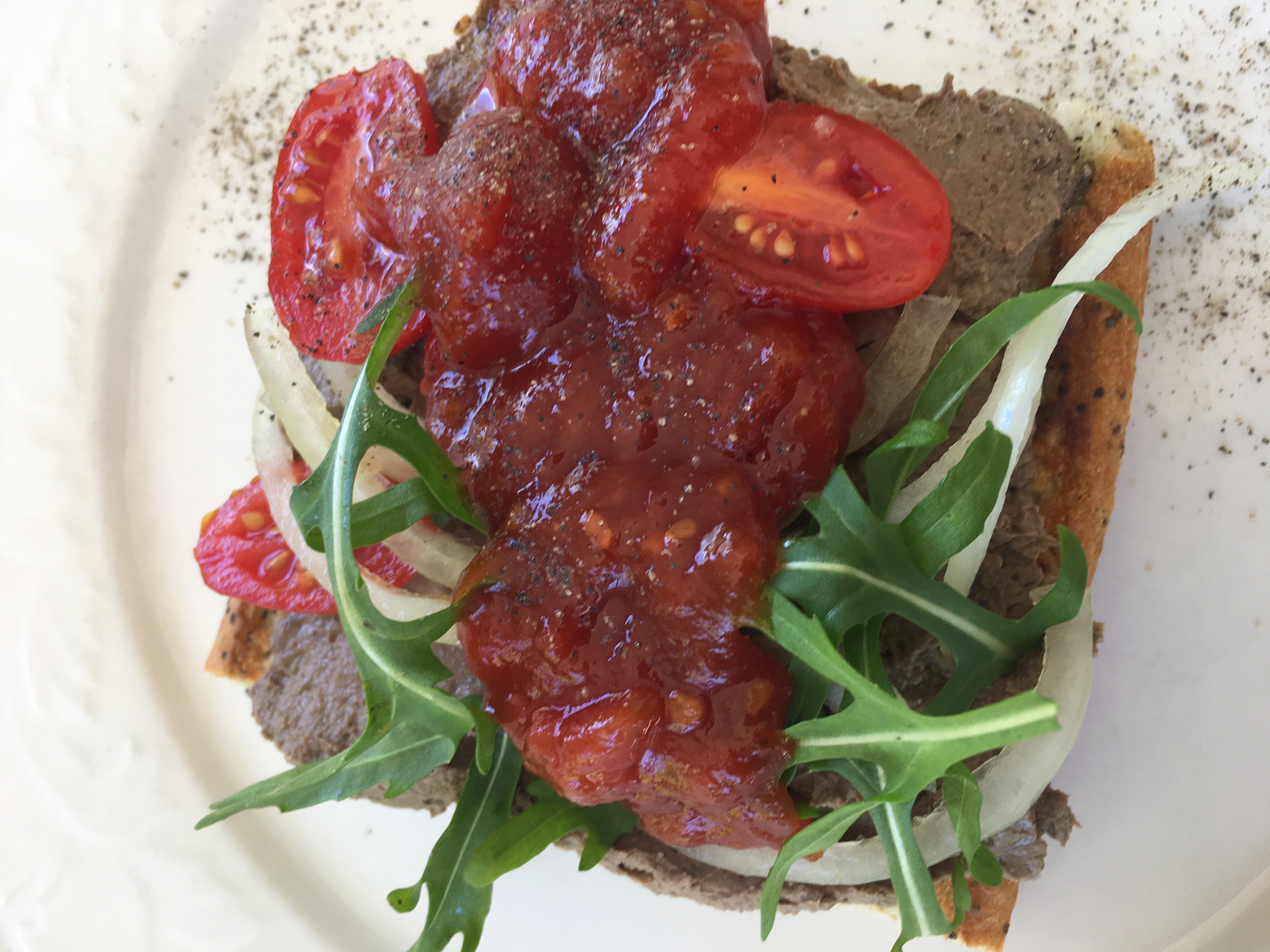 Bruschetta with Chicken Liver Pâté, Marinated Onion and Tomato Baharat Jam
Chicken liver pâté (see recipe)
Tomato Baharat Jam (see recipe)
1 onion, halved then very thinly sliced
2 Tbs white wine vinegar or white balsamic vinegar
2 Tbs hot water
2 tsp honey
Pinch of salt
1 baguette (French loaf)
Extra Virgin olive oil
1 large clove garlic, crushed
A few halved cocktail tomatoes
A few rocket leaves
Make the pâté and tomato jam – the day before serving if you like. Mix onion with vinegar, honey, hot water and salt and leave to marinate.
To serve, cut baguette in half horizontally, then cut into serving sizes about 10-12cm long. You should get 6 or 8 from a loaf. Discard the very ends of the loaf. Mix olive oil with garlic, brush over both sides of the bread then toast till golden on a griddle pan.
Arrange toasted baguette on serving plates. Spread each one liberally with chicken liver pâté then garnish with marinated onion (drained and dried with paper towels) and Tomato Baharat Jam. Finish with some lightly dressed baby tomato halves and rocket leaves.
Makes 6-8 bruschetta