Until a couple of years ago I had never roasted cauliflower. Now it's my preferred way of cooking this vegetable.
Those who don't like anchovies might be put off this recipe. But they lose their fishy taste and don't really taste like anchovies once they're mixed into a sauce. A lot of anchovy-haters aren't aware that the dressing which goes with their favourite Caesar Salad includes anchovies. If preferred just leave them out or use less.
Matthew declared this recipe was "Extra Good" and he's not one to give out accolades easily. Serve as a side dish or light lunch.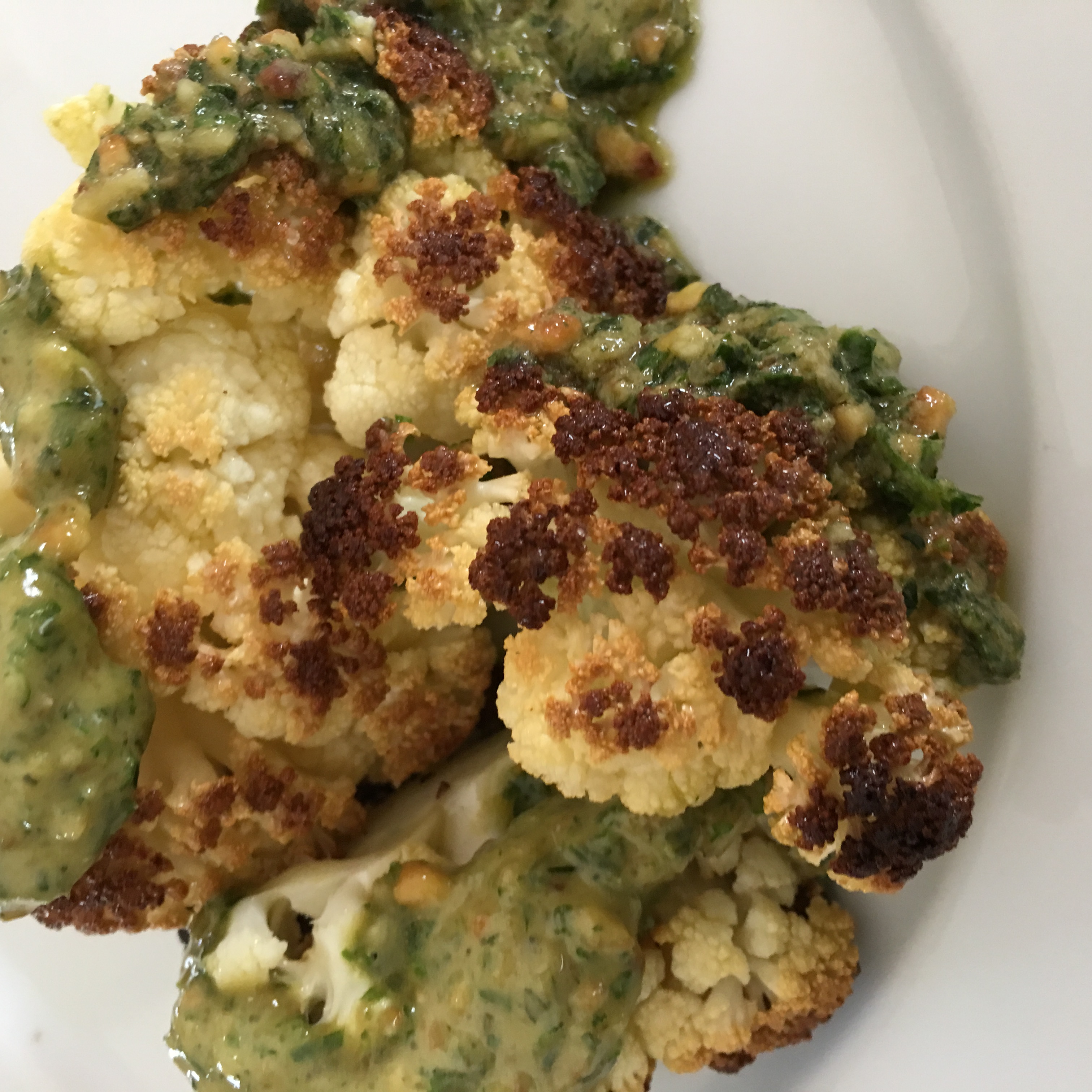 1 whole cauliflower
olive oil
salt
Pesto:
6 anchovies in oil
2 cloves garlic, peeled
1 large handful fresh herbs (parsley, mint, coriander, tarragon, basil or whatever you have)
1/3 cup nuts (blanched almonds, pine nuts or macadamias)
½ cup or more Extra Virgin Olive oil
2-3 tsp vinegar or lemon juice
Preheat oven to 180°C. Drain anchovies and place in a small bowl. Cover with tepid water and leave for 15 minutes. Drain and pat dry.
Remove stalk and leaves from cauliflower, but leave whole. Turn it over and with a small sharp knife remove some of the core, being careful not to cut into any of the florets. Line a baking tray with baking paper. Place cauliflower on tray and drizzle with olive oil on both sides, then season with salt. Use your hands to rub it in all over. Bake cauliflower for a good hour, turning over and drizzling with a bit more oil halfway through cooking time. When ready cauliflower should be nicely browned all over and tender when pierced with a sharp knife.
Meanwhile make pesto by placing all ingredients in food processor and pulsing until you have a chunky pesto sauce. Add more oil if necessary. Add vinegar or lemon juice to taste at the end.
Serve cauliflower with the pesto.
Serves 4-6