Don't like anchovies? I have to admit I'm not mad about them either when they're whole. But crushed into a sauce they add a unique depth of flavour which has been known to win over quite a few anchovy haters. A traditional Caesar Salad dressing wouldn't be the same without them – but a lot of people wouldn't even know they're there.
I found this recipe on the New York Times recipe site which said "Just don't mention the anchovies, tell people it's pasta, cabbage and umami".
This recipe is tasty on its own or as a side dish with grilled meat.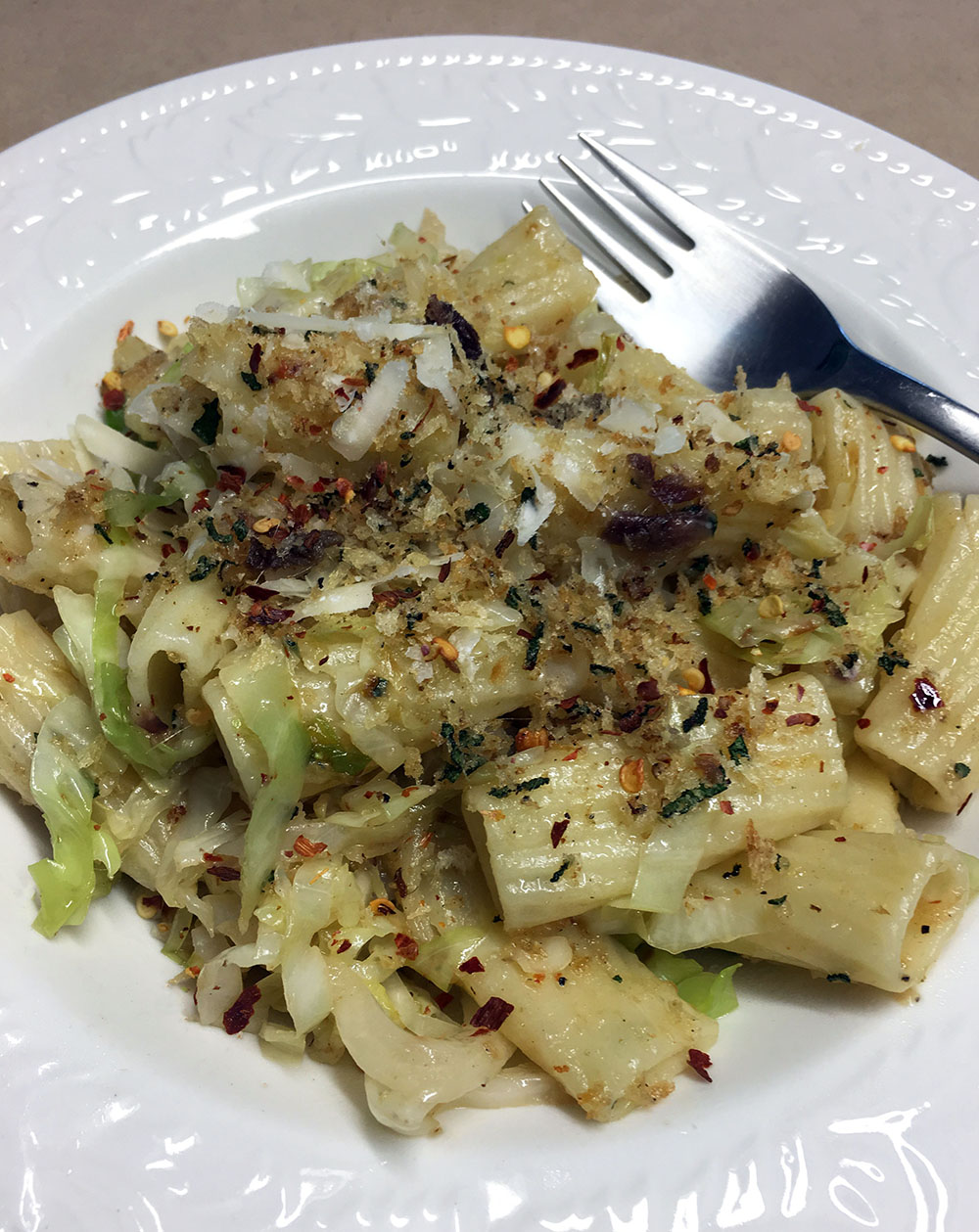 500g dry pasta such as penne
5 cloves garlic, crushed
2 Tbs butter
4 anchovy fillets
½ cup coarse breadcrumbs or Panko breadcrumbs
1 Tbs finely chopped fresh sage
Salt and freshly ground black pepper. To taste
1/3 cup Extra Virgin Olive oil
½ tsp dried red chilli flakes, or finely diced fresh chilli to taste
8 cups shredded cabbage
2/3 cup grated Parmesan cheese
Bring a large pot of salted water to the boil and cook pasta according to package instructions until al dente. Drain.
While pasta is cooking, melt butter in a small frying pan and add half the garlic and the anchovies, mashing with a spatula until they dissolve into the butter. Add breadcrumbs and sage and cook, stirring, for about 2 mins or until golden brown. Turn off the heat and season with pepper.
Heat oil in a large frying pan over medium to high heat. Add remaining garlic and chilli and cook for a minute or so, until fragrant. Add the cabbage and cook, stirring from time to time, for 15-20 mins or until it begins to caramelise. Mix with the pasta and breadcrumb mixture, saving some of the breadcrumbs to garnish. Check for salt and pepper and serve immediately, garnished with the remaining crumb mixture and the Parmesan.
Serves 4