According to No.1 son, this easy mid-week recipe is the way to get kids to eat broccoli. Well it worked with his two sons who are ten and eight. If you can't be bothered with the Ponzu sauce just serve the meatballs as they are, or with some soy sauce drizzled over.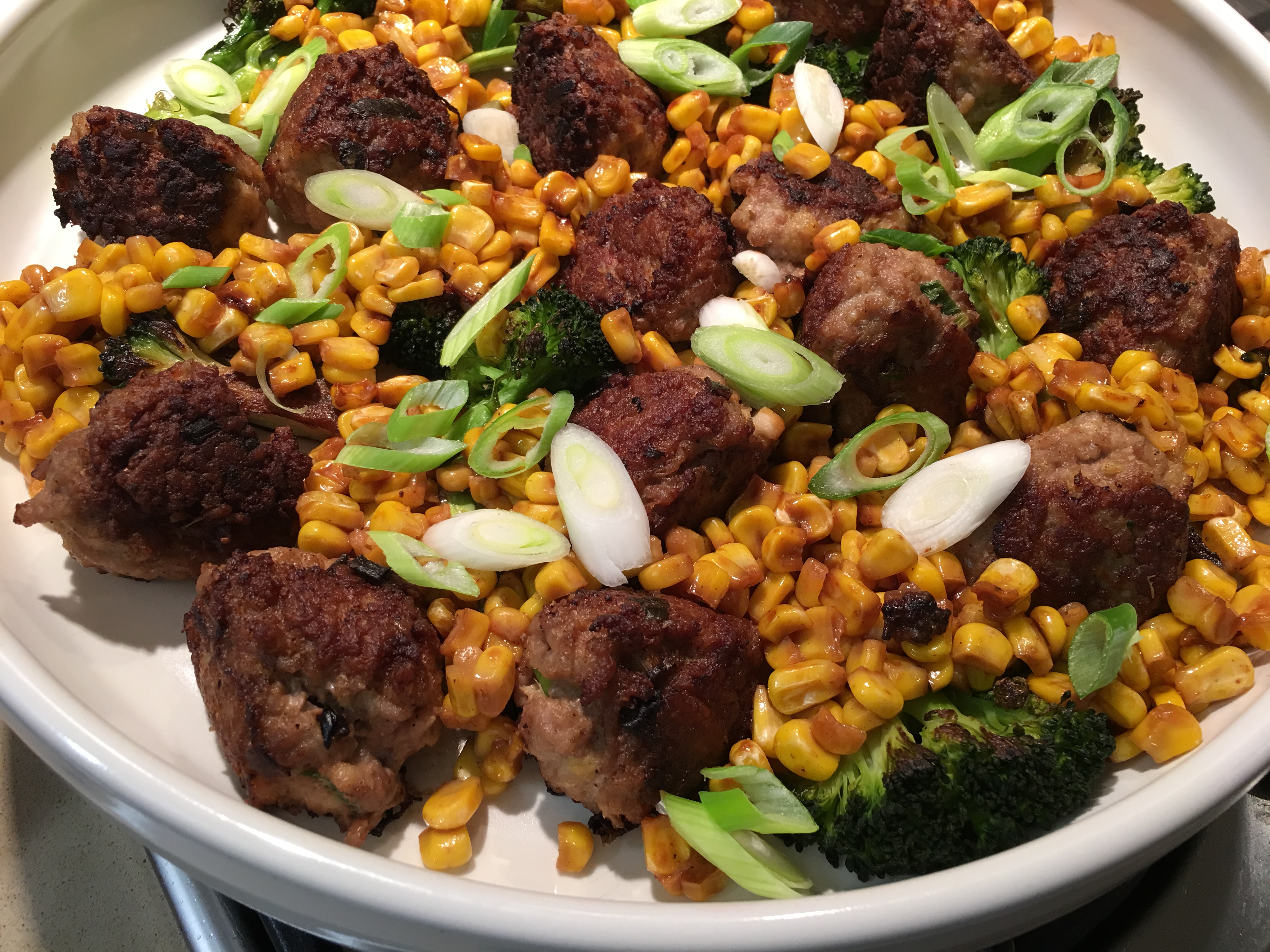 1 large head broccoli cut into florets
2 Tbs olive oil
Salt and freshly ground black pepper
1 Tbs miso paste (see note)
1 Tbs butter
1-2 tsp honey, to taste
2 cups corn (canned or frozen, thawed)
Meatballs:
500g pork mince
1 clove garlic, crushed
1 spring onion, finely chopped
½ cup breadcrumbs (preferably Panko crumbs)
1 Tbs sesame oil
1 egg
1-2 Tbs grated ginger (to taste)
Salt and pepper
To serve:
Steamed rice
1 spring onion, finely sliced on the diagonal
Ponzu Sauce (see note)
Preheat oven to 180°C. Mix all ingredients for meatballs and form into 2-3cm balls.
Mix broccoli with half the oil, salt and pepper. Line a tray with baking paper, arrange broccoli in one layer then roast for 20 mins. Heat remaining oil in a large non-stick frying pan and brown meatballs all over. Place them on another paper-lined tray and bake them for 5-10 minutes. Broccoli and meatballs should be ready at about the same time.
Wipe out frying pan then add the miso paste and butter and heat to dissolve. Add the corn, broccoli and meatballs and cook, stirring, for a minute or two, until coated with the sauce. If mixture seems a bit dry add a couple of tablespoons of water.
Serve the meatballs with steamed rice, garnished with the spring onion. Pass the Ponzu sauce round separately.
Serves 4
Note: Miso paste is a Japanese ingredient available in some supermarkets and Asian shops. If you can't find Ponzu sauce make your own by mixing 2 Tbs soy sauce, 1 Tbs each lemon or lime juice and mirin (sweet rice wine), 1 tsp sugar and a pinch of cayenne pepper.