As kids we all loved figgy biscuits. These little pillows of fig paste encased in a delicious cakey-biscuity dough were invented in Philadelphia in the late 1800s and are sold in the USA under the Newton brand. In England we bought a version made by McVities.
Anything home-made always tastes better than the shop-bought variety and these scrumptious biscuits are no exception. Buy dried figs which are plump and sticky and not too hard. If you don't have quite enough throw in a few sultanas, raisins or dates to make up the two cups. The addition of ginger is my own suggestion for ginger fans. This is a good recipe for using up that last bit of jam or marmalade from the bottom of the jar.
Commercial figgy biscuits don't have a sprinkling of icing sugar, but I always think it enhances the appearance of baked goods. Mine were a bit overcooked, as you can see in the photo. They should have been whipped out of the oven a few minutes earlier.
Serve as a biscuit or warm with vanilla ice-cream as a delicious dessert.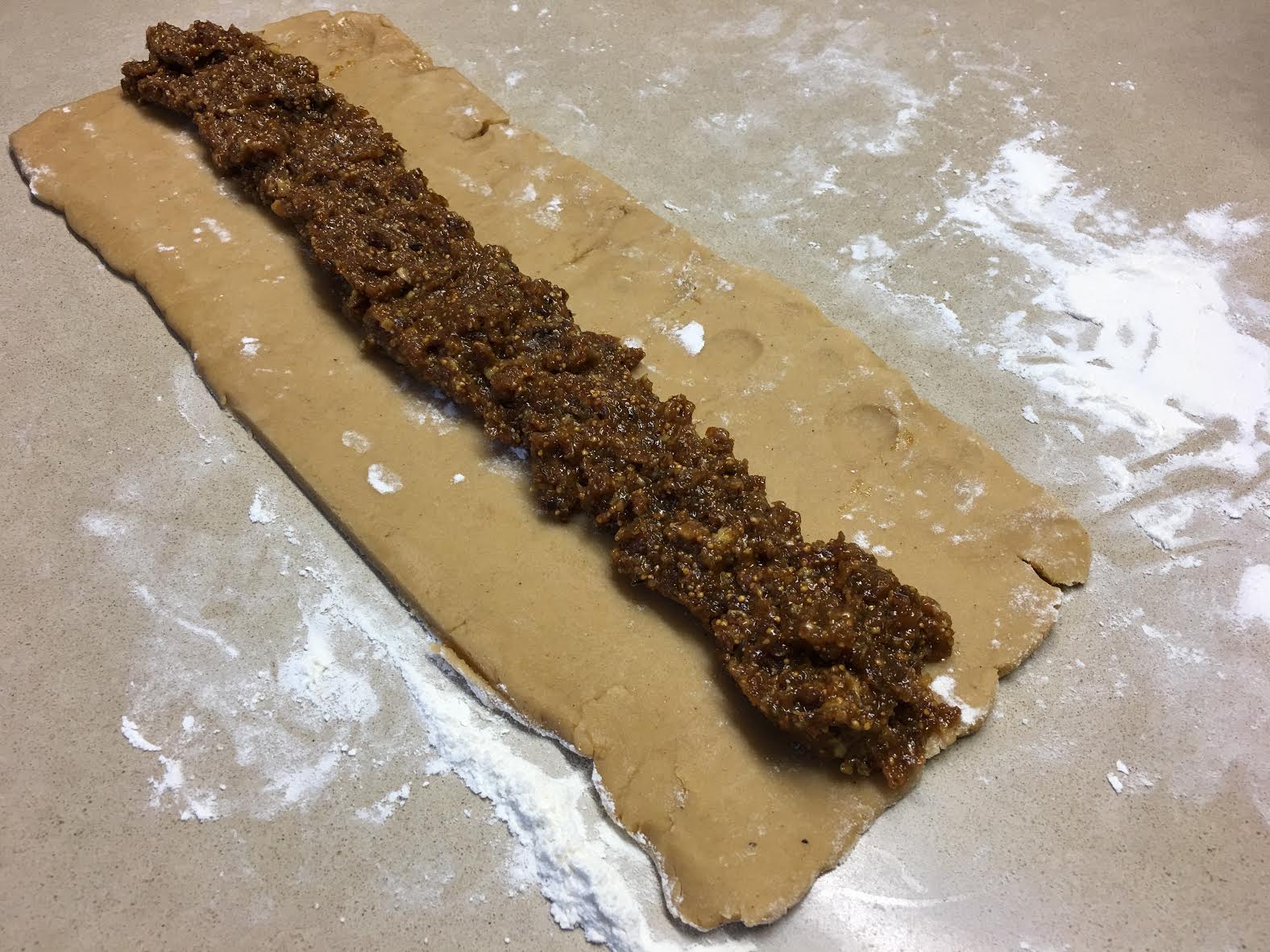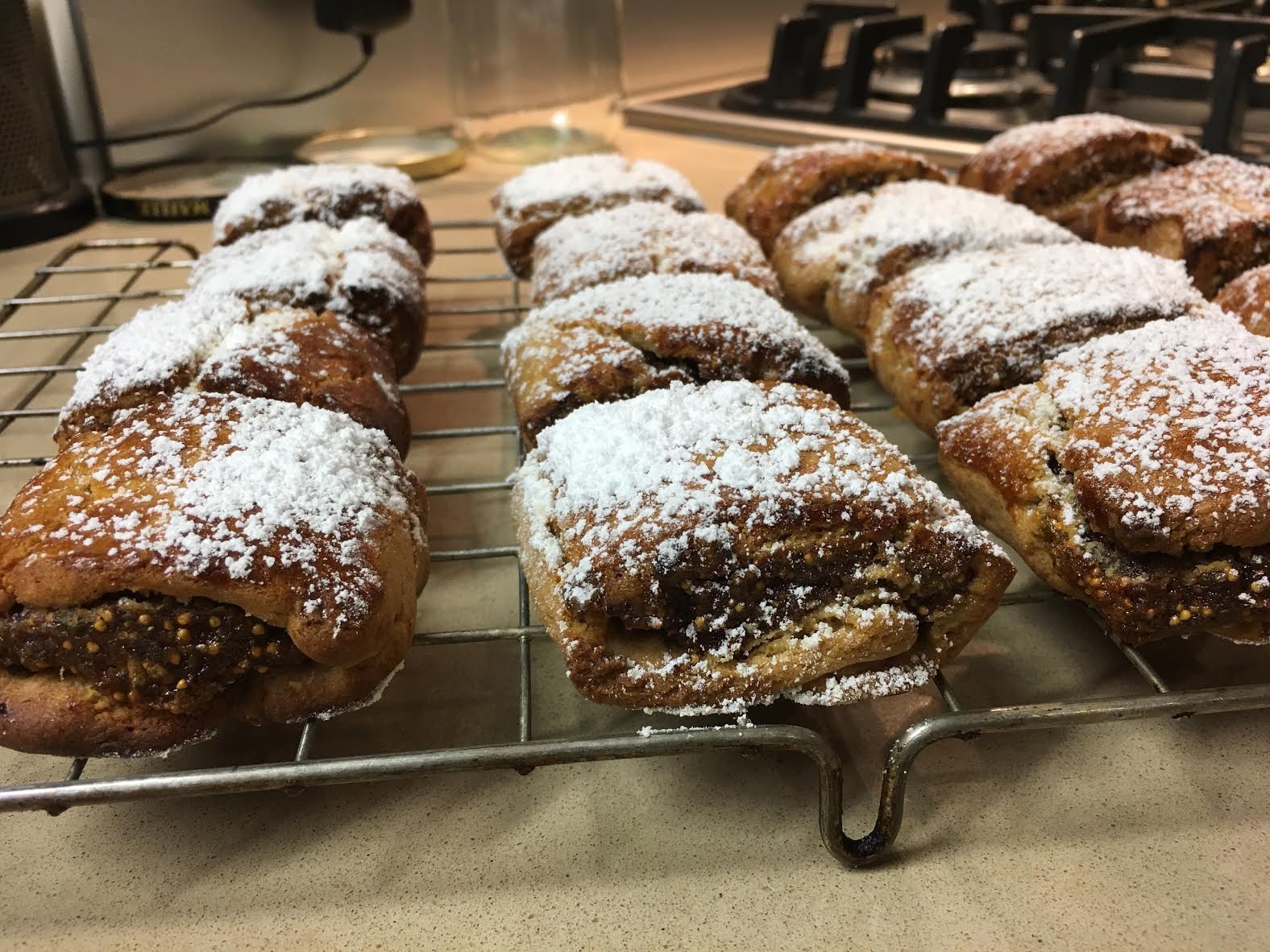 Dough:
140g butter (at room temperature)
1/3 cup brown sugar
1 level tsp bicarbonate of soda
¼ tsp salt
¼ tsp ground cinnamon
2 Tbs honey
1 Tbs orange or lemon juice
1 egg
2 cups plain flour
Filling:
2 cups chopped dried figs, stems removed
1/3 cup jam or marmalade
2 Tbs orange or lemon juice
1 Tbs grated fresh ginger or glacé/crystallized ginger (optional)
To finish:
1 egg white, beaten
Icing sugar (optional)
Place butter, brown sugar, bicarbonate of soda, salt, cinnamon and honey in food processor. Process for a minute or two, stopping to scrape down the sides and gradually adding the orange, egg and flour. When thorough mixed use a spatula to scrape the dough onto a piece of plastic wrap. Pat it into a thick square, wrap with the plastic, then refrigerate for an hour or so.
There's no need to wash the food processor before you make the filling. Place all ingredients in food processor and process till smooth, stopping to scrape down the sides.
Preheat oven to 170°C. Cut dough in half and roll out one half on a floured surface to a rectangle approximately 30cm by 10cm. Spread half the filling thickly down the middle as shown in photo. Bring in one side over the filling, then the other side, overlapping with the first side. You may need to use a metal spatula to lift the dough which will be quite soft with a tendency to stick and break. You will then have a long sausage with a seam along the top as shown in the photo. Turn it over and cut into 8 to 10 even pillows. Arrange on a shallow baking tray lined with baking paper, with a space between each biscuit. Repeat with the other half of the dough and filling. Brush with beaten egg white then bake for 15 mins or until light golden brown.
Cool biscuits then store in an airtight tin.
Makes 16-18