On a recent trip to Europe we caught up with quite a few friends and family in Denmark, England and France. It was so nice to return to Copenhagen (12 years after we lived there) and find that our old friends still wanted to hang out with us. As we walked in the door the cork would pop off the first bottle of champagne, then we'd have a lovely time eating, drinking and being merry. Just like we'd never been apart. When we left a couple of days later they went back to their normal, more sensible, regime, while we moved on and started all over again.
This is why we like to spend a few days on the way back to Australia at a resort in Thailand, to recover. A week of swimming, reading, massage and early nights, with no wine and just the occasional beer or cocktail means we get home looking and feeling like we've had a holiday.
For the past few years we've stayed in Khao Lak, a 75 minute drive north of Phuket airport. It's relatively quiet, the way Phuket was 20 or 30 years ago. I send an email to a taxi company called "Cheaper than Hotel" and when we walk out of the airport there's our driver waiting.
Breakfast at the Chong Fah resort where we've stayed two years running is substantial, so we skip lunch and go out for dinner after a Happy Hour cocktail at sunset. The nearby resort named Casa de la Flora (which in correct Spanish should be Casa de la Flor) serves delicious modern Thai food. We dined there twice and both times ordered this dish which I have done my best to replicate. The recipe serves 4 as a light main course or 8 as a sharing plate.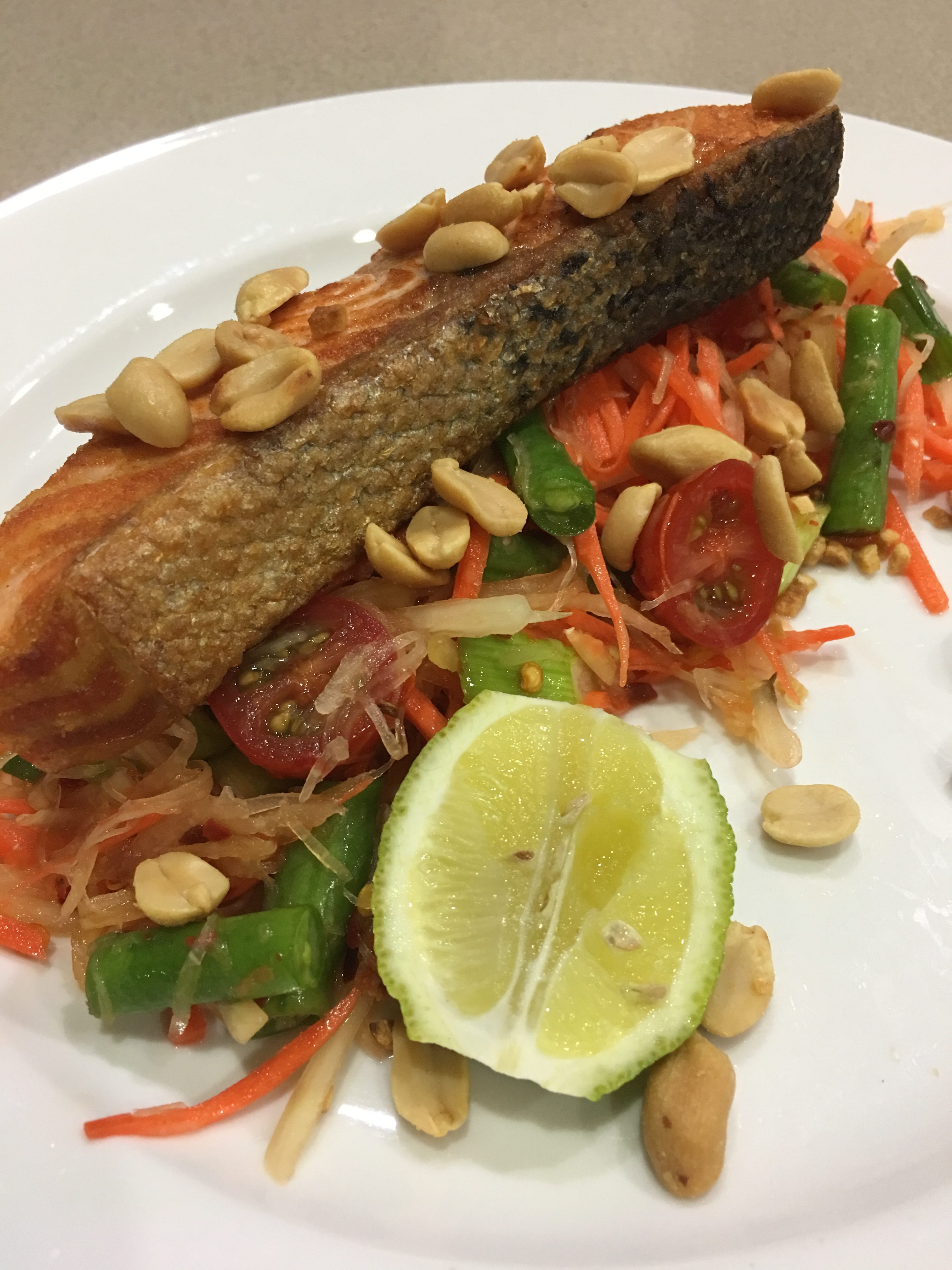 4 salmon fillets, skin on
Salt and pepper
1 Tbs oil
Salad:
½ a small green papaya (about 200g), or 1 green mango
2 carrots (about 200g)
2 spring onions, thinly sliced on the diagonal
6 green beans cut into 2.5cm lengths (or use snow peas)
½ cup dried shrimp (from Asian stores) (optional)
1-2 dried chillies, chopped, or chilli flakes, to taste
8-10 cocktail tomatoes, halved
Dressing:
1 Tbs Thai Sweet Chilli Sauce
1 Tbs lime or lemon juice
1 Tbs fish sauce
1 Tbs brown sugar or palm sugar
To garnish:
1 lime
2-3 Tbs toasted peanuts
Pour boiling water over the dried shrimp. Leave for 15 mins then drain. Cut the papaya and carrots into julienne strips. Mix all ingredients for salad. Mix dressing and add to the salad.
Season salmon then place in a non-stick frying pan, skin side down. Turn on the heat to moderately hot and cook for 3-4 minutes, until skin is crispy, then turn over and cook for another 3-4 minutes, or until done to your liking.
Divide salad between 4 serving plates. Top with the salmon and garnish with the lime, cut into cheeks or wedges and the peanuts.
Serves 4