Yotam Ottolenghi is one of my favourite chefs and this is another of his scrumptious recipes. These spicy potatoes roasted in duck fat with confit garlic have an unbelievable crunch, achieved by adding semolina. The best roast potatoes I've ever eaten.
Use Harissa, Sambal Oelek or any chilli paste you have and adjust the amount, according to how spicy you like things. If preferred, use olive oil instead of duck fat.
Don't be tempted to halve the recipe, they're too good.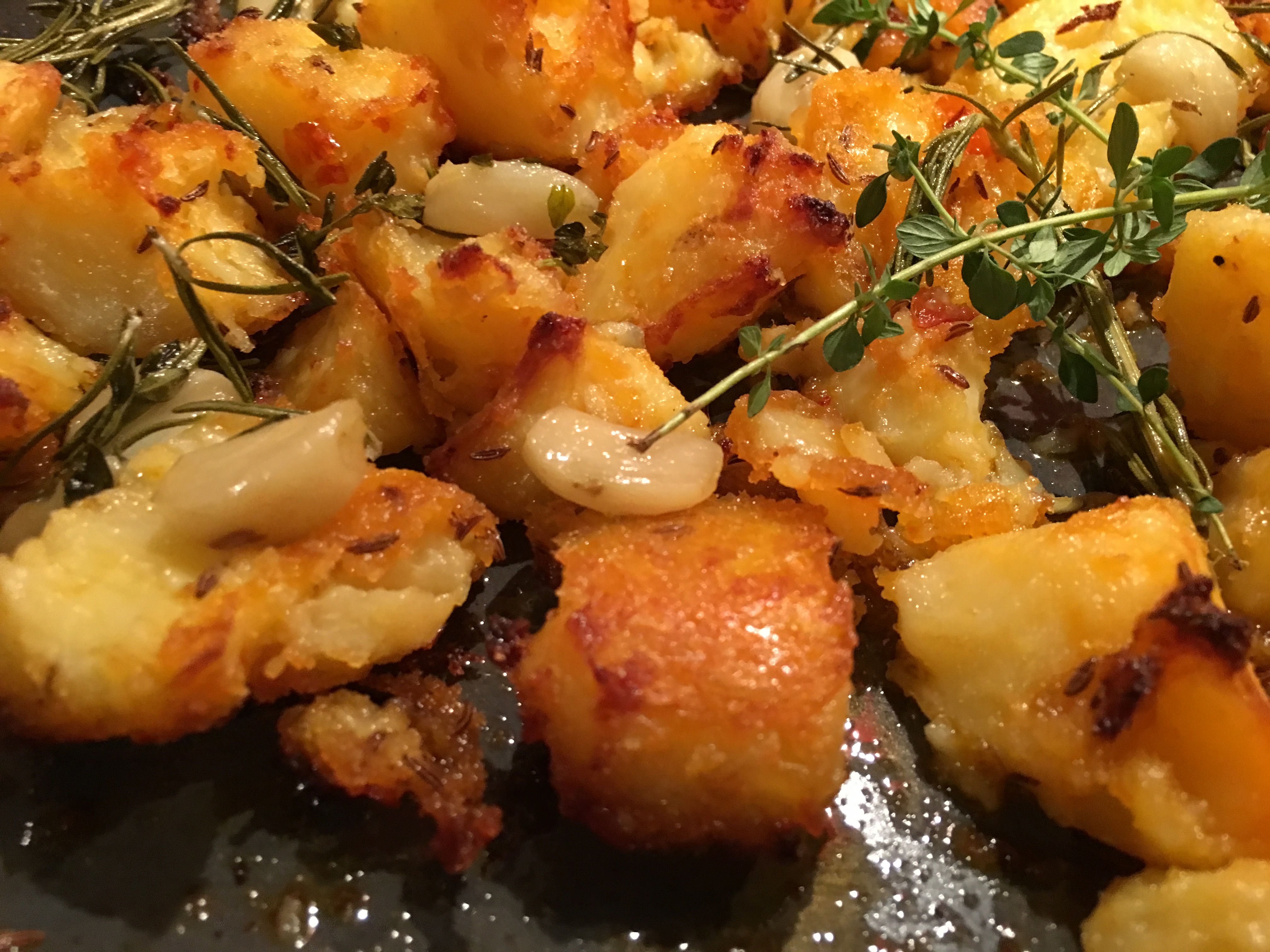 2 large heads garlic, cloves separated and peeled
130g duck fat
4 sprigs fresh rosemary
6 sprigs fresh thyme
2kg roasting potatoes, peeled and cut into 5cm chunks
40g ground semolina
2 tsp caraway seeds, toasted and lightly crushed (I used cumin seeds)
1-2 Tbs Harissa (Sambal Oelek or another chilli paste)
2 tsp Maldon sea salt
Preheat oven to 150°C. Put garlic, duck fat and herbs in a small ovenproof casserole with a lid. Cover and roast for 40 minutes, until garlic is caramelised and soft. Remove from the oven and strain fat into a large heatproof bowl. Put garlic and herbs aside.
Increase oven temperature to 200°C Bring a large pot of salted water to the boil, add potatoes and parboil for 10 minutes, until half-cooked. Drain into a colander, shaking the potatoes to fluff up the edges, then leave to dry for 10 minutes.
Mix potatoes, semolina, caraway or cumin seeds, harissa and two teaspoons of Maldon salt into the bowl of reserved fat, then spread out on a large oven tray. Roast for 45 minutes, turning once or twice, until golden-brown, then stir in the confit garlic and herbs and roast for 10-15 minutes more, until potatoes are dark golden-brown and crisp. Serve hot, sprinkled with some extra salt.
Serves 6-8