First produced in 1901, Heinz Baked Beans have maintained their popularity for well over a century. One of the best known advertising slogans launched in the UK in 1967 was Beanz Meanz Heinz.
I've never been a fan, but have several friends who eat them when they need some comfort food.
Proper Baked Beans, made from scratch by soaking dried beans, now that's a different story. I think they're quite delicious. In this recipe the beans aren't actually baked, although you could always cook them in the oven rather than on the stove top, if preferred. In fact Heinz Baked Beans, despite the name, aren't baked either. Raw beans are placed in the cans with the sauce, then sealed and cooked in very large pressure cookers.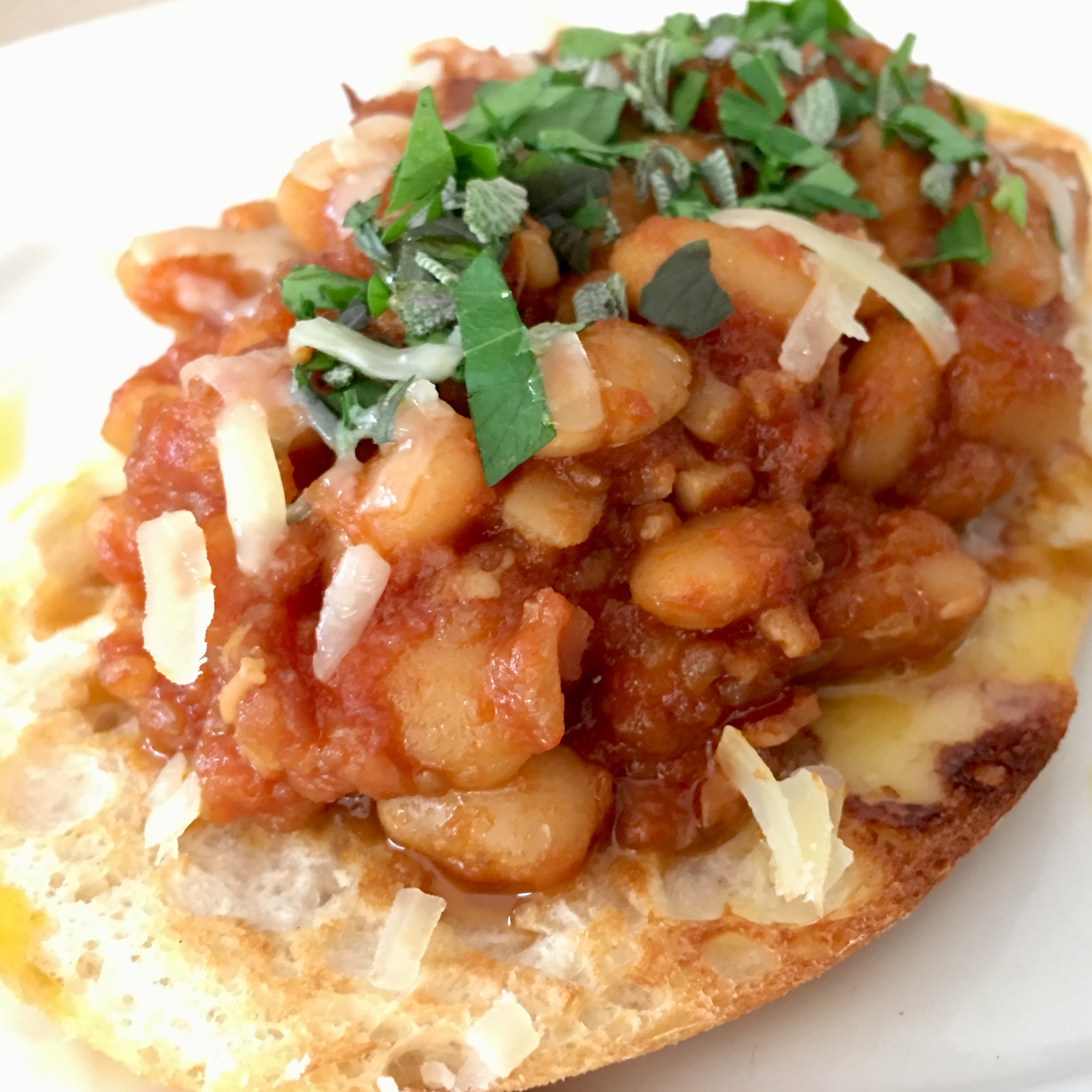 500g dried white beans (eg haricot blanc, white kidney beans)*
2 Tbs canola or olive oil
250g smoked streaky bacon, chopped
2 onions, chopped
2 cloves garlic, crushed
2 x 400g cans tomatoes, chopped
500ml water
2 Tbs tomato paste
100g brown sugar (or less if preferred)
200ml vinegar
Salt and freshly ground black pepper
To serve:
Hot buttered toast
Chopped fresh herbs
Grated Parmesan (optional)
Cover beans with cold water and leave to soak overnight. Drain and rinse thoroughly then place in a large saucepan, cover with water and simmer for an hour, or until cooked. Beans vary and could take up to two hours. Add more water as necessary. Drain.
In a large heavy-bottomed saucepan heat the oil. Add the bacon, onions and garlic and cook over moderate heat, stirring often, until onions are soft and bacon is starting to brown. Add tomatoes, tomato paste, sugar, vinegar and water. Bring to the boil then add the cooked beans. Reduce to low and simmer for an hour and a half, or until you have a thick sauce and very tender beans. Add a dash more water from time to time if necessary.
Check seasoning and serve on toasted and buttered Turkish or Sourdough bread, garnished with chopped herbs and a little grated Parmesan, if liked.
Serves 8
*If preferred, substitute 3-4 cans of drained canned beans and skip the first paragraph of the recipe.