This recipe is adapted from one by David Lebovitz. One of those sweet, sinful snacks you have to hide, to avoid overindulgence. Trouble is, I know the hiding place.
When a friend emailed to ask for the recipe I wrote back asking if she also wanted contact details for Weight Watchers. She thought I was suggesting she was fat so I said she would be if she ate too much of this. It's something you might describe as moreish, a word which I see has made it into the English dictionary and which has nothing whatsoever to do with Moorish, used to describe things with an Arabian flavour.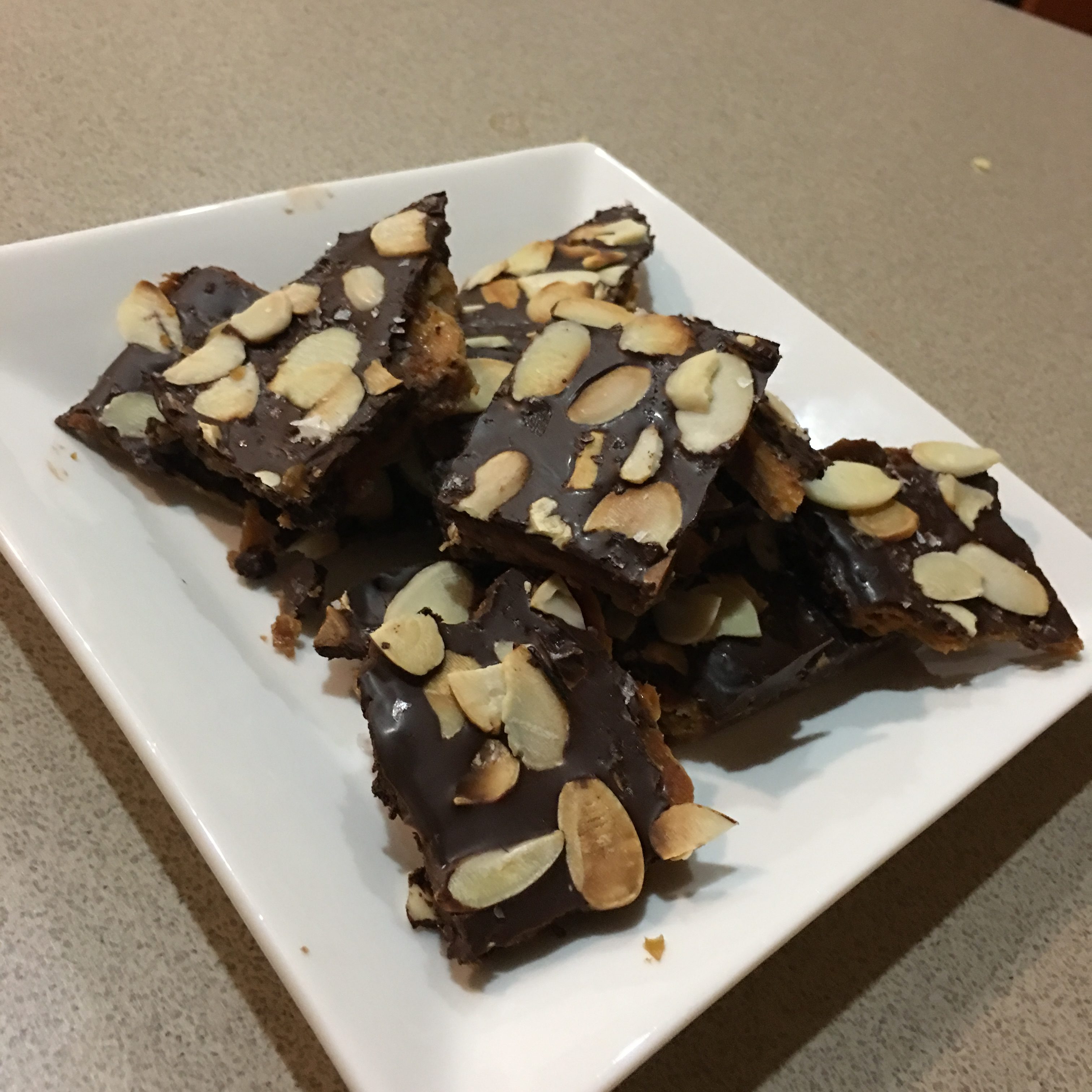 About 6 sheets Salada crackers (called Saltine in other countries)
250g unsalted butter
1 cup brown sugar
Large pinch of salt
½ tsp vanilla essence
250g dark chocolate
1 small piece of Copha (vegetable shortening) the size of a large walnut
1 cup flaked almonds (optional)
Salt flakes
Line a shallow baking sheet approximately 28x42cm with baking paper. Or use two smaller tins which come to about the same total area. Cover with the crackers, breaking them as necessary to cover the whole area like a jigsaw puzzle.
Preheat oven to 180°C. Melt butter and sugar in a saucepan, then boil for 3 minutes, stirring all the time. Add salt and vanilla then pour over the crackers, spreading evenly. Bake for 15 minutes, watching carefully that it doesn't burn.
Melt chocolate and Copha in a bowl over boiling water, then spread evenly over the caramel. If using nuts, toast them lightly in a dry frying pan over moderate heat then sprinkle over the chocolate. Sprinkle with a few salt flakes. Cool.
To serve, break into uneven sized pieces
Variations: use milk chocolate or a mix of half milk and half dark