Baba Ganoush is a delicious Middle Eastern dip to serve with pita bread or pita bread toasts. It also goes well with some starters or main courses. Try it with smoked salmon. Or with today's pan-fried fish.
The recipe makes more Baba Ganoush than you will need for this recipe which serves 2. Keep the rest and serve it as a dip. For a gluten-free version of this recipe leave out the flour.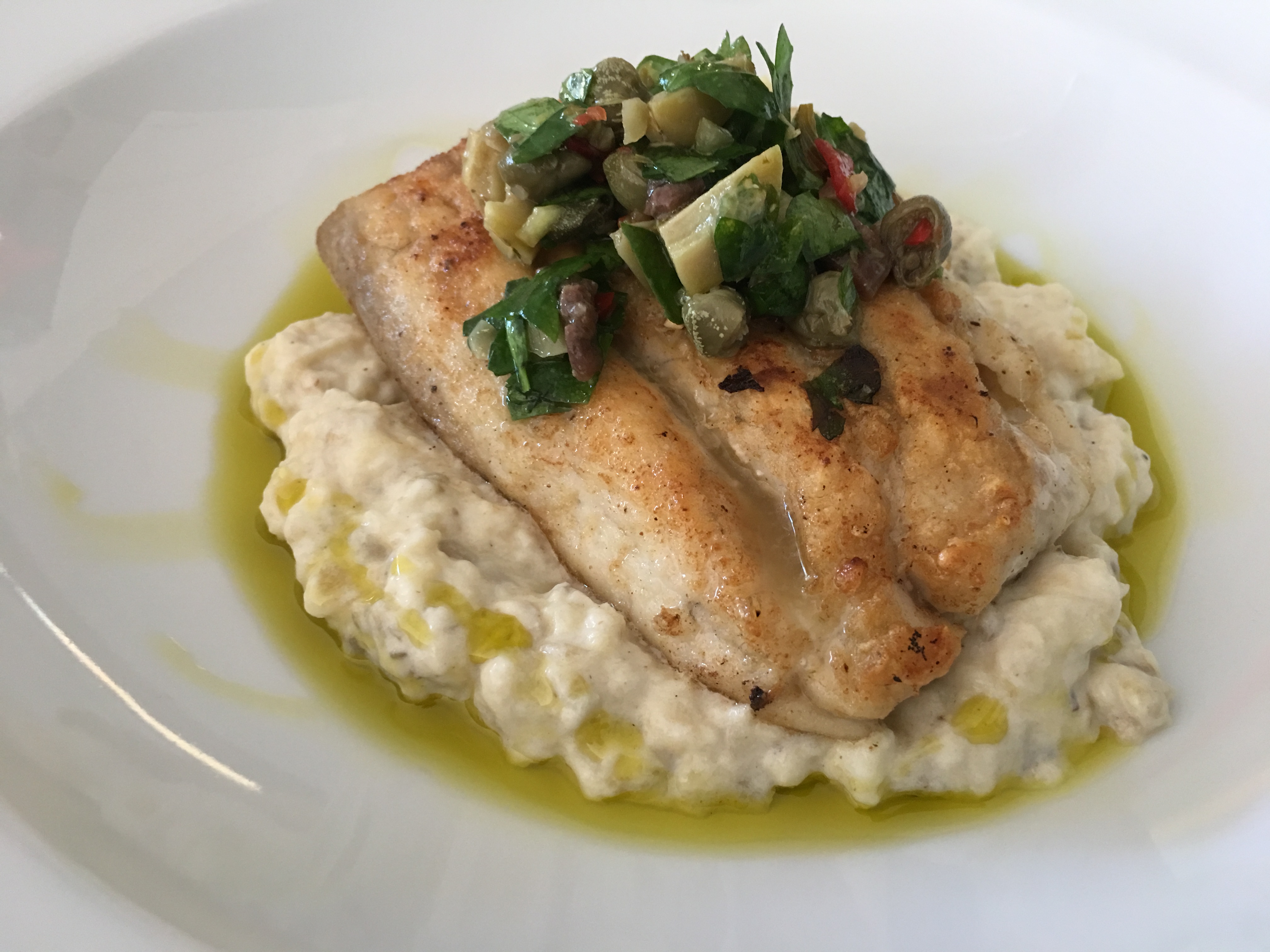 Baba Ganoush:
500g eggplants (2 or 3)
1 large or 2 smaller cloves garlic, crushed
2 Tbs olive oil
lemon juice and salt, to taste
Pinch of ground cumin
2 Tbs mayonnaise
1 small pot Greek-style plain yoghurt
Fish:
2 portions of firm-fleshed white fish
2 tsp plain flour
Salt and freshly ground black pepper to taste
Good pinch ground cumin
2 tsp olive oil
2 tsp butter
Salsa:
1 Tbs capers, drained
1 Tbs chopped green or black olives
1 Tbs chopped parsley
1-2 anchovies, chopped
½ small red chilli, seeded and finely chopped (optional)
Lemon juice to taste
To serve:
Extra Virgin olive oil
Baba Ganoush: If possible, barbecue the eggplants over charcoal which gives the dip a distinctive, smoky flavour. Or cook them under a hot grill on both sides, until they collapse and the skins are black and blistered. You can also cook them in an oven at 180°C for about half an hour.
When cool enough to handle, cut in  half lengthwise and scrape out the flesh, discarding the skins. Chop flesh finely by hand, then add remaining ingredients. Using the food processor makes it too smooth, so best done by hand. If there's time you can chill it for several hours or overnight for flavours to develop.
Fish: Mix flour with salt, pepper and cumin and coat the fish. Heat oil and butter in a frying pan and cook fish till golden on both sides.
Salsa: Mix all ingredients together.
To serve, place 2-3 Tbs Baba Ganoush in the middle of 2 serving plates (you will have some left over to use as a dip). Place a piece of fish on top. Top with the salsa, then drizzle a little oil around the edge.
Serves 2