A boned and stuffed whole chicken makes a great centrepiece for a buffet table. I've done it once, or maybe twice. But it's not a five minute job. This quick and easy recipe from Spanish-born Australian chef Miguel Maestre achieves the same flavour profile with far less effort.
If preferred use black pudding instead of chorizo.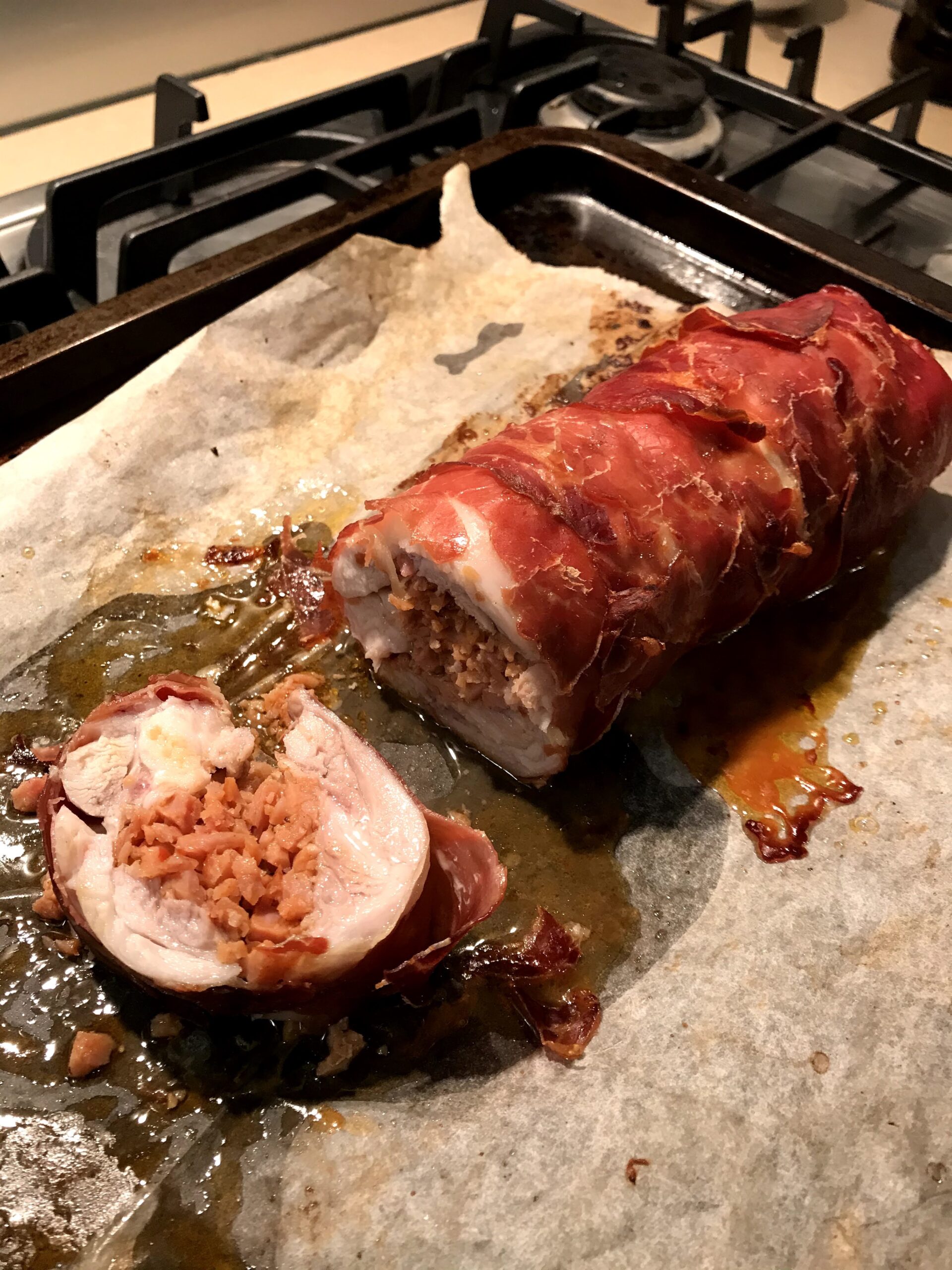 5 large chicken thighs, skinless and boneless
2 chorizo sausages
About 8 thin slices of jamon serrano or prosciutto
Salad:
1 can butter beans, drained and rinsed
1 small red chilli, seeds removed and finely diced (optional)
1 French shallot, finely diced
3 Tbs finely chopped chives
2 Tbs finely chopped black olives
3 Tbs roughly chopped coriander
2 Tbs mayonnaise
1 Tbs olive oil
Juice of half a lemon
Salt and freshly ground black pepper, to taste
Extra herbs for garnish
Balsamic glaze
Preheat oven to 200°C. Remove skin from chorizo and chop very finely in food processor.  On a shallow baking tray lined with baking paper, arrange the jamon, slightly overlapping, in a rectangle about 30cm wide and the height of the slices. Trim chicken pieces and gently hammer out any which are a bit too thick, so they are more even. Lay chicken on top of the jamon, leaving no gaps, like a jigsaw puzzle.
Place the pureed chorizo down the middle of the chicken. Using the baking paper to assist, roll the chicken over itself and form into a tight cylinder. Place the baking paper back down on the tray and arrange the chicken roll on top with the seam underneath. Bake for 25-35 minutes or until juices run clear when pierced with a skewer.
In a bowl place all the ingredients for the salad. Mix and season to taste.
Serve the chicken warm or at room temperature, thickly sliced, surrounded by the salad and garnished with the extra herbs. If serving cold, garnish with some balsamic glaze.
Serves 6-8