This salad is perfect for a New Year's Eve buffet. I've been making it for about 20 years and it's always a hit. One of my top ten cold recipes.  If preferred, use peeled prawns instead of lobster as I have in the photo. You will need a kilo of prawns to end up with half a kilo once they are peeled. Serve on individual plates as a starter or on one large platter as part of a buffet.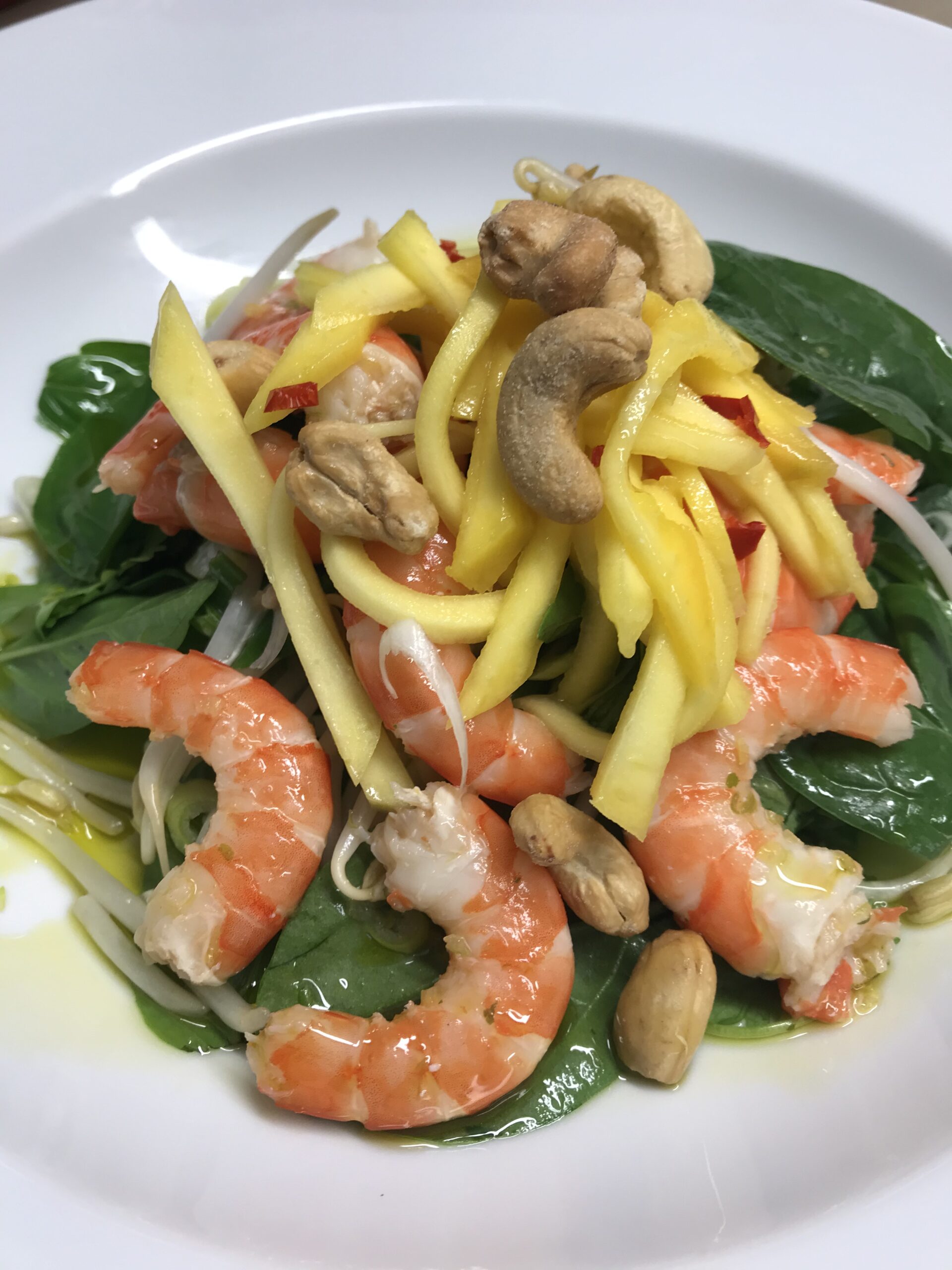 500g cooked lobster (crayfish) meat, or cooked shelled prawns
2 slightly underripe mangoes, skinned, sliced and cut into julienne sticks
1 med red chilli, seeded and finely chopped
1 bunch spring onions, white & some of the green, thinly sliced on the diagonal
1 bunch coriander, leaves picked off (keep the stalks for the dressing)
A handful of basil leaves, picked off and torn in half if large
60g baby spinach
1 cup beansprouts
Dressing:
¾ cup lime juice
80g palm sugar or brown sugar
1 stalk lemongrass, white part only
Stalks from 1 bunch of coriander
2 Tbs Fish sauce
Garnish:
¾ cup unsalted cashews
Extra Virgin olive oil
Make dressing: Heat lime juice in a small saucepan with palm sugar and stir to dissolve. Place in food processor with remaining ingredients. Process till fairly smooth, then tip into a jar with a lid. Can be made ahead and refrigerated.
Slice lobster meat into large chunky pieces. If using prawns just peel, devein and leave whole. Mix with a little of the dressing and the chilli and refrigerate till serving time. Toast cashews in a dry pan, over medium heat. Wash spinach, basil, beansprouts and coriander. Dry in a salad spinner then refrigerate in the spinner. Prepare mango and spring onions and refrigerate, separately. All ingredients can be prepared well ahead.
To serve, mix spinach, coriander leaves, basil leaves, beansprouts and spring onions with enough dressing to moisten. Divide between six individual plates or pile into one large serving dish. Arrange the lobster or prawns on top and garnish with the mango and cashews. Drizzle with extra dressing if liked. You may not need all the mango, depending on the size of the mangoes you use. Drizzle a little olive oil around the salad.
Serves 6 as a starter or light lunch, 4 as a main course or 10 to 12 as part of a buffet
Notes: if you don't have lemongrass use a couple of strips of lemon or lime peel, removed with a potato peeler. If you don't have unsalted cashews, salted ones will do. If you don't have lime juice use lemon juice.