Our potato crop has just started so I put these delicious potato cakes on the menu for a light lunch last weekend. They originate in Scandinavia and when we were living in Copenhagen we ordered them quite often in restaurants.
They don't contain any flour making them gluten free, which is good news for readers who avoid eating wheat and other grains.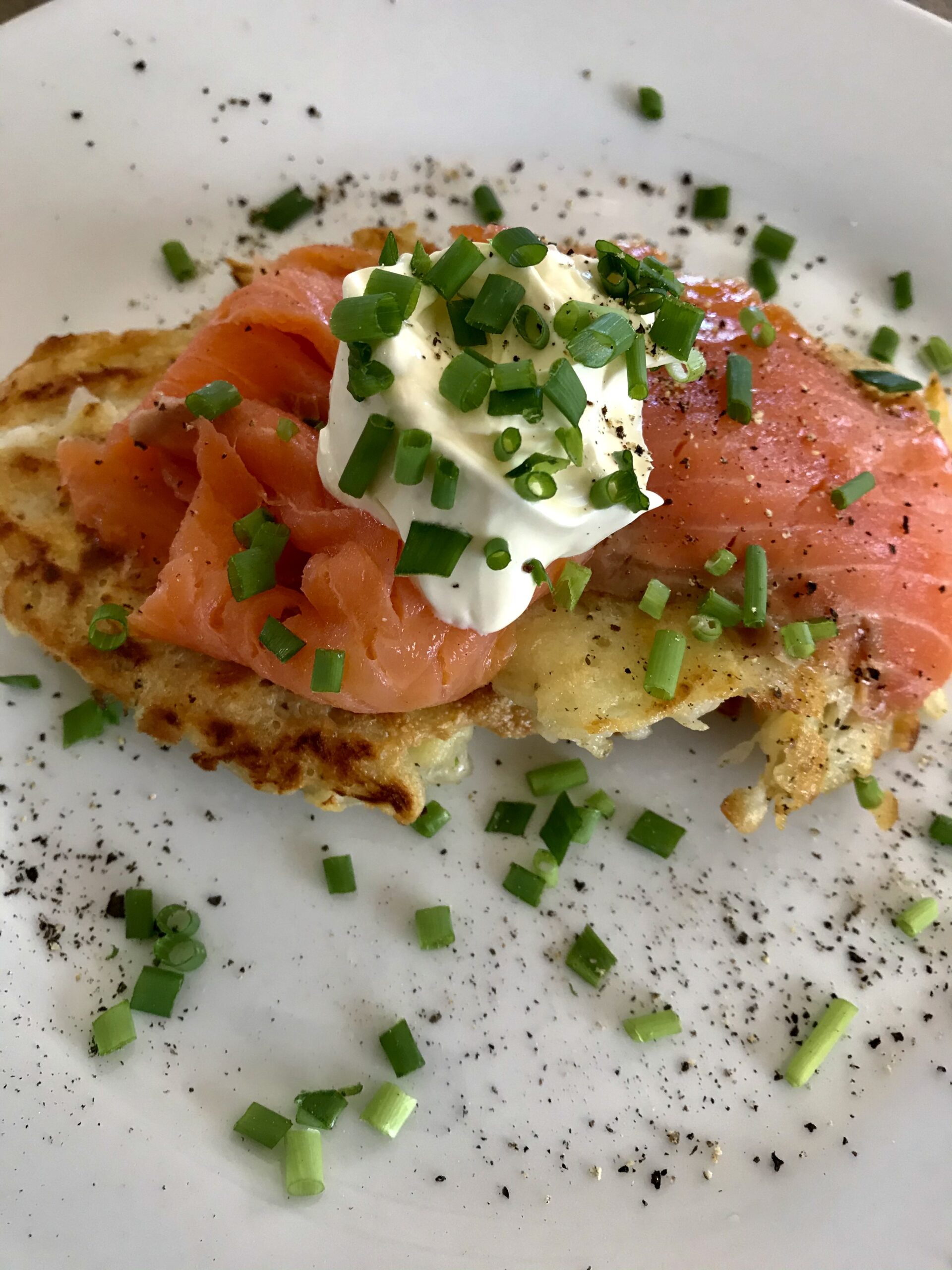 500g potatoes
1 small onion, grated (optional)
1 egg
Salt and freshly ground black pepper
Olive or vegetable oil to fry
To serve:
Smoked Salmon or Trout
Sour Cream
Snipped chives
Peel potatoes and coarsely grate by hand or using a 0.5cm attachment on your food processor, transferring to a large bowl of cold water as grated. Soak potatoes for a couple of minutes then drain well in a colander. Spread potatoes on a tea towel and roll up. Twist towel tightly over the sink, to remove as much liquid as possible.
Transfer grated potato to a bowl and mix in the grated onion (if using), egg, salt and pepper. Heat ¼ cup oil in a large nonstick frying pan over moderately high heat until hot but not smoking. Working in batches of four, spoon 2 tablespoons potato mixture per potato cake into frying pan, spreading into 3-inch rounds with a fork. Reduce heat to moderate and cook for 4-5 minutes, until undersides are browned. Turn over and cook for 4-5 minutes more. Transfer to paper towels to drain and season lightly with salt. Add more oil to pan as needed. Keep potato cakes warm on a wire rack over a shallow baking pan in a low oven. Leftovers can be reheated in a low oven.
Serve potato cakes with smoked salmon or trout, sour cream and chives and cracked pepper.
Makes 6-8 cakes serving 3-4