My friend Bettina recommended this delicious and quick recipe for beef from Melbourne-based chef Karen Martini.
I've tweaked it a little and reduced the ingredients to serve two people rather than four. It's easy enough to double or triple to make more servings. Use any tender cut of beef.  I used one large T-bone steak which weighed just over 400g after I had removed the bone and excess fat. Any salad mixture will do, although I think the slightly bitter radicchio leaves make a difference.
It's a fairly simple recipe which allows good quality beef, extra virgin olive oil and balsamic vinegar to shine.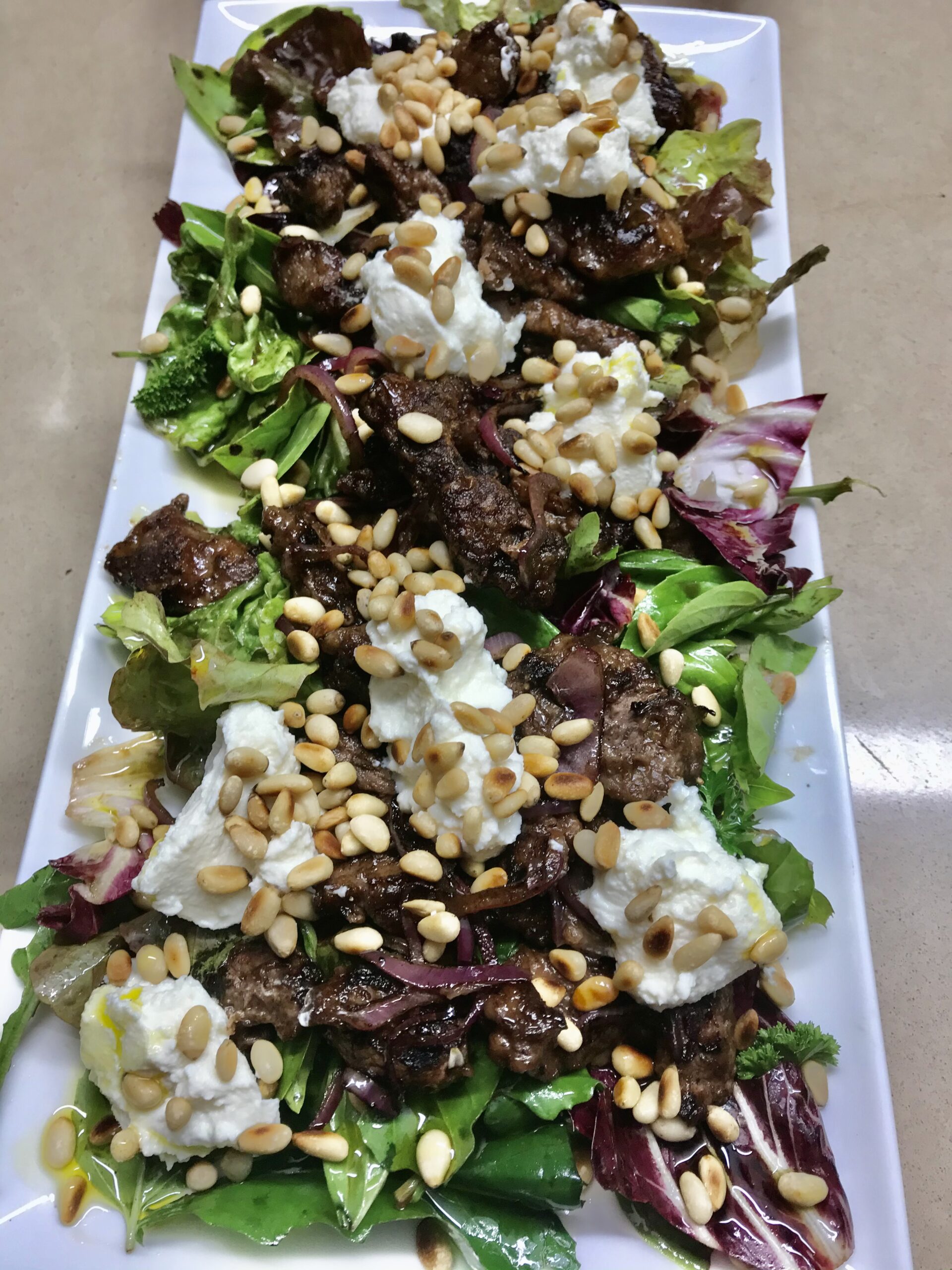 About 6 big handfuls of mixed salad greens (rocket, baby spinach, lettuce, radicchio)
A handful of parsley leaves and a handful of basil leaves
About 400g steak cut into stir-fry slices (fillet, rump or sirloin)
2-3 Tbs plain flour
1 Tbs olive oil to fry the meat
Salt and freshly ground black pepper, to taste
2 Tbs balsamic vinegar
½ a small red onion, thinly sliced
125g fresh ricotta cheese
2 Tbs pine nuts, lightly toasted in a dry frying pan
1-2 Tbs extra virgin olive oil, extra
Salad Dressing:
2 Tbs balsamic vinegar
7 Tbs extra virgin olive oil
Salt and freshly ground black pepper, to taste
Mix steak with the flour, shaking off and discarding any excess. Prepare salad ingredients, cutting or breaking any large leaves to bite-size. Place salad dressing ingredients in a jar and shake.
Heat olive oil in a large heavy-based frying pan and add steak over medium heat. Separate the pieces and allow them to cook on one side, without moving, for 2 minutes. Turn the meat over and season. Add the onion and balsamic vinegar and continue to cook, swirling the pan, for another minute or so, until the onions have softened a bit.
Place salad ingredients and herbs in a bowl and add enough salad dressing to coat. You won't need it all. Arrange salad on one large or two individual serving plates. Use tongs to arrange steak over the top, dot with blobs of ricotta and scatter over the pine nuts. Drizzle the extra virgin olive oil over and around the salad.
Serves 2