Woolworths supermarkets publish a free recipe magazine every month and I sometimes pick one up when I'm doing my weekly shopping. This recipe appealed to me, so I tore it out.
When I came to make it I couldn't believe how complicated the method was. Using exactly the same ingredients, but a completely different method, I created this version which was delicious.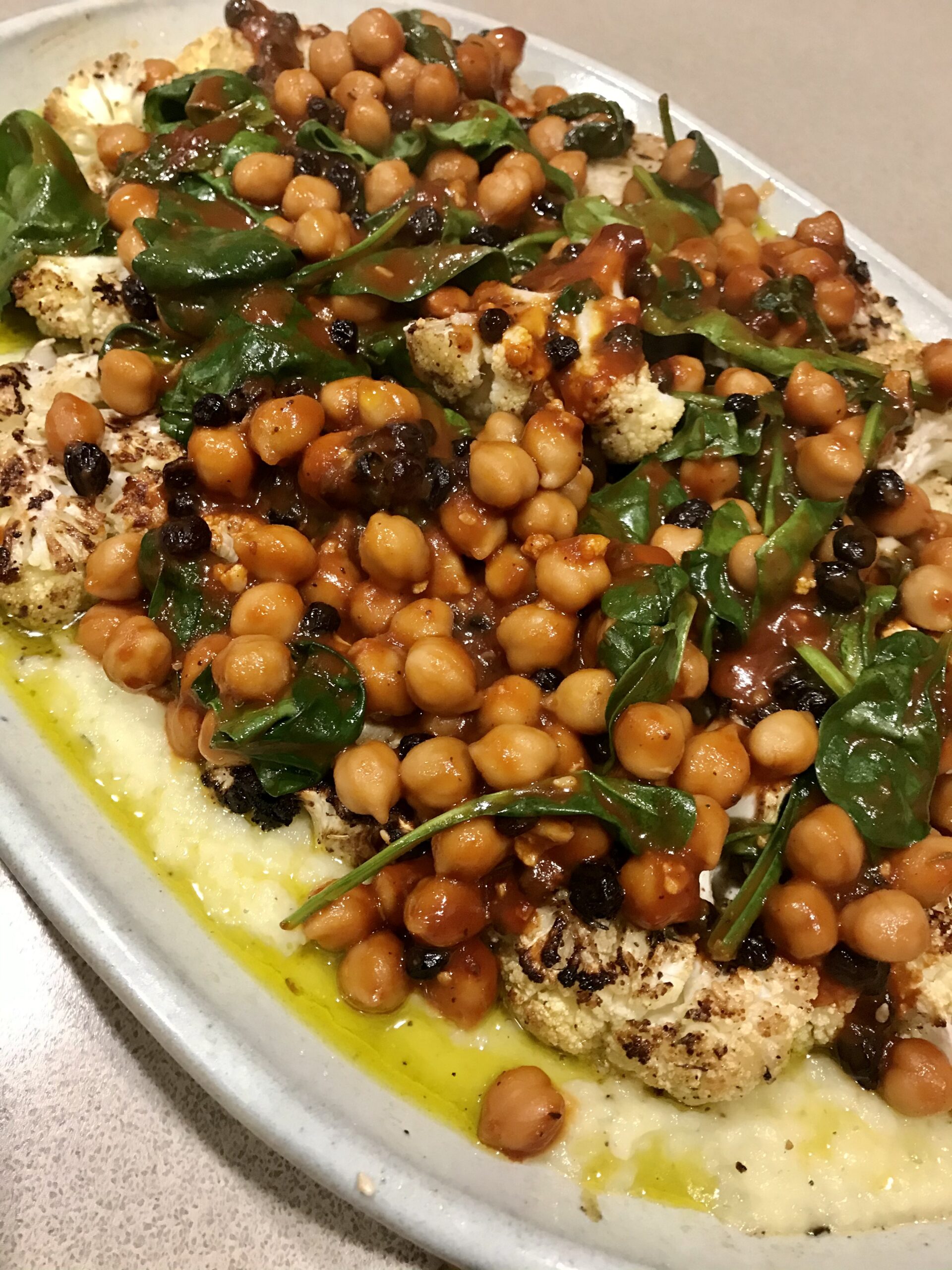 1 large cauliflower
Water
1 tsp vegetable or chicken stock powder (or ½ a stock cube)
25g butter
3 Tbs olive oil
2 Tbs Za'atar (spice mix)
2 tsp sumac
2 Tbs tomato paste
¼ cup red wine or cider vinegar
¼ cup currants
1-2 Tbs maple syrup, to taste
1 can chick peas, rinsed and drained
2 cups baby spinach
Salt and freshly ground black pepper
Cut the cauliflower into large florets and place them in a large mixing bowl. These are the cauliflower pieces you are going to roast. Put the remaining stalks, tiny florets, and leaves in a medium saucepan. Add enough water to barely cover and the stock cube.  Bring this to a full
boil, then simmer until tender.  Cool for 10 minutes, and then puree in a food processor or with a stick blender, adding the butter and salt and pepper to taste. If making ahead, scrape the puree back into the saucepan, so you can reheat it at serving time.
Preheat oven to 200°C. To the cauliflower florets add the olive oil, Za'atar, sumac, salt and pepper to taste and mix well. Line a large shallow baking tray with non-stick baking paper and spread cauliflower over in one layer. Bake for 20-30 minutes or until al dente and starting to brown on the edges.
While cauliflower is cooking place tomato paste, vinegar, currants, maple syrup, chickpeas and half a cup of water in a frying pan and cook, stirring often for 5 minutes or until reduced and thickened. Just before serving mix in the spinach and remove from the heat.
To serve, spread cauliflower purée (reheated if necessary) over one large serving plate or several individual plates. Top with the roasted cauliflower, then spoon over the chickpea mixture. If liked drizzle a little extra virgin olive oil around the plate.
Serves 6
Note: if you don't have any Za'atar or sumac, make your own spice mixture with cumin, coriander and dried thyme or oregano. If you don't have any currants, use sultanas, raisins or dried cherries.