When I was growing up in England in the 60s my mother regularly made a beef and chestnut casserole in winter, which we all loved.
She found the recipe on the back of an Oxo beef stock cube packet. Apart from beef, chestnuts and Oxo cubes I remember she added sherry or red wine, but I didn't have the recipe. A couple of years ago I contacted the makers or Oxo cubes to see if they could help, but they couldn't.
I decided to have a go at recreating this dish and here is the result. Simple but delicious. Served with mashed potatoes and a green vegetable it's perfect for a winter gathering.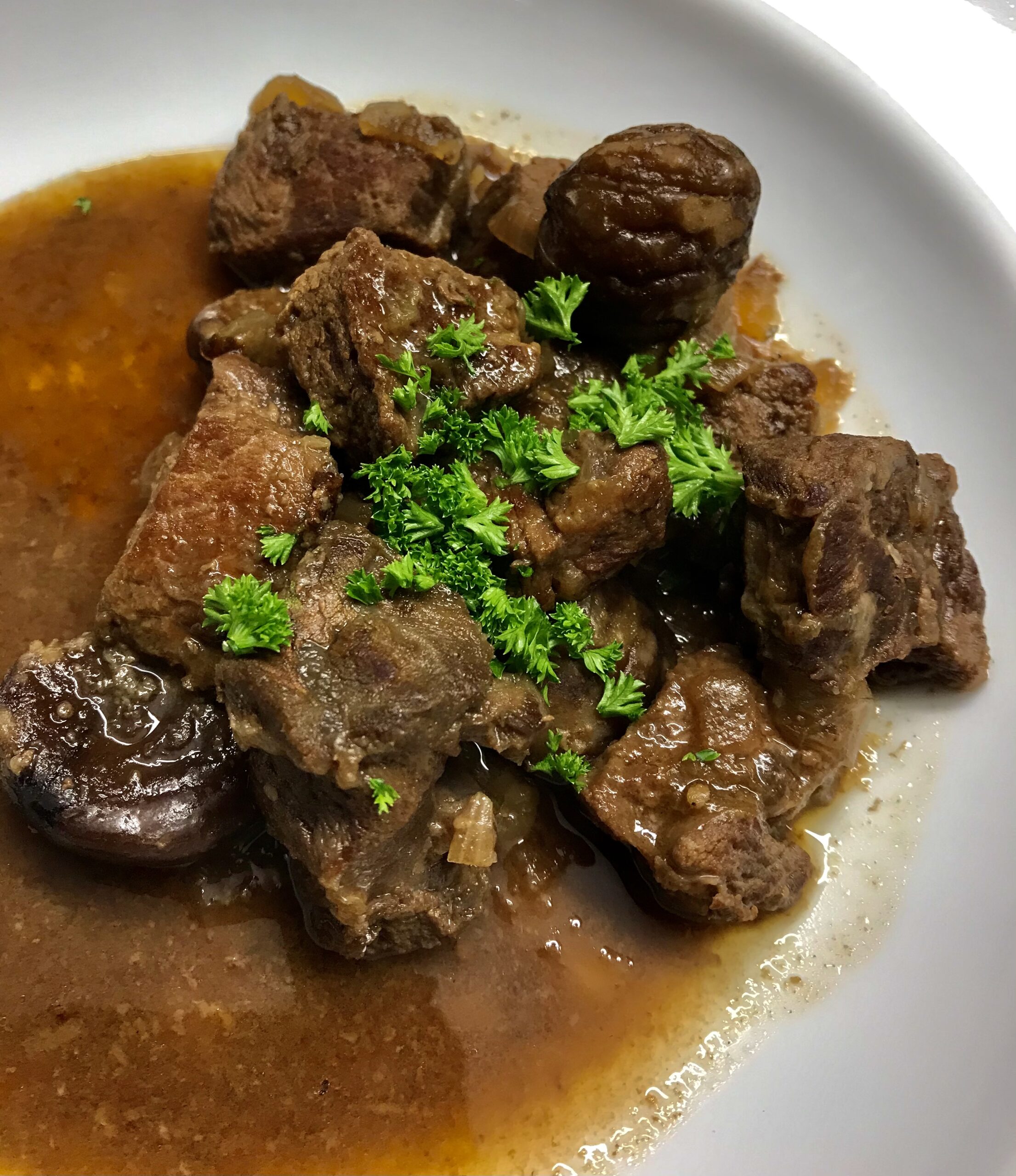 1.2kg lean beef (chuck steak, gravy beef) cut into 2cm cubes
2 Tbs plain flour
Salt and freshly ground black pepper
3 Tbs olive oil
2 large brown onions, chopped
2 beef Oxo cubes, crumbled (or use another brand)
1 cup dry sherry or red wine
1 Tbs fresh thyme leaves or 1 tsp dried
2-3 carrots, sliced (optional)
2-3 cups water
400g peeled chestnuts (see note below)
Chopped parsley to garnish
Mix beef with seasoned flour to coat thoroughly. Heat 1 Tbs oil in a large non-stick frying pan and brown the meat on both sides. Remove to a large casserole dish with a lid. Repeat with remaining beef and another Tbs of oil. Add to the casserole. Add the last Tbs oil to the frying pan and cook the onions, stirring often, until softened but not browned. Add to the casserole with the sherry or red wine, thyme, and carrots If using.
If you use fresh uncooked chestnuts you have peeled yourself add them now. If using cooked ones add them later.
Preheat oven to 150°C. Mix  2 cups of water into the casserole and bake for 2-3 hours or until meat is tender. Check and stir every hour or so and add more water if necessary. You want the casserole to be nice and thick. If using cooked chestnuts add them about half an hour before the casserole is ready.
If preferred, cook the casserole in a slow cooker for about 4 hours on High or 8 hours on Low. If using this method you will definitely need less water than when using an oven.
I like to make casseroles the day before serving as it improves the flavour. Reheat on the day with the addition of a little more water, if required.
Garnish with chopped parsley and serve with mashed potatoes (with lots of butter added) and a green vegetable.
Serve 6-8
Note: fresh chestnuts are fiddly to peel so I bought two 200g packets of peeled, cooked whole chestnuts made by a company called Cheznuts. At $12 a packet they're not cheap but they were certainly convenient.