Swedish Almond Cake (Mandeltarta) was made internationally famous by IKEA who sell it frozen in their stores. I decided to make my own.
The recipe makes a small cake which will serve 8. To make a bigger cake use two 24-25cm cake tins and increase the ingredients by fifty per cent, using 6 eggs instead of 4.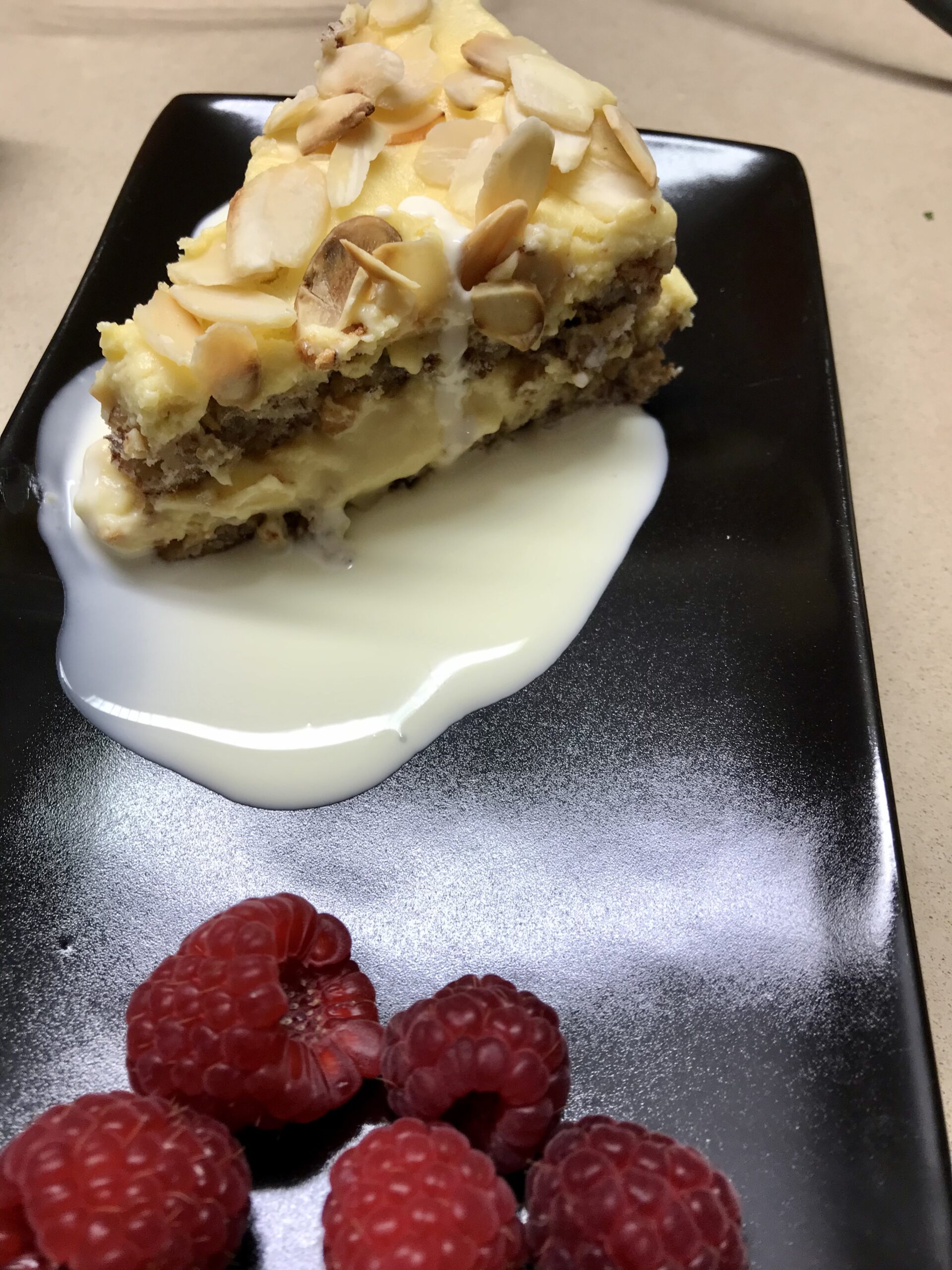 Meringues:
4 eggs whites
Pinch salt
80g sugar
140g ground almonds (see note)
Filling: 
4 egg yolks
75g sugar
1 tsp vanilla essence
125ml cream (½ cup)
2-3 Tbs flaked blanched almonds, lightly toasted by stirring in a dry pan over moderate heat
125g unsalted butter, at room temp
125ml cream (½ cup) extra
To serve:
Fresh raspberries and cream (optional)
Preheat oven to 190°C. Grease and bottom-line two 20cm cake pans. Beat egg whites and salt with electric beaters until soft peaks form, then gradually add the sugar, beating continuously, until you have a stiff meringue. Fold in the ground almonds.
Divide evenly between the cake pans and smooth the tops. Bake for 25 mins then cool. Meanwhile in a non-stick milk pan, mix the egg yolks, sugar, vanilla and cream with a balloon whisk. Turn on the heat and cook, stirring continuously, until thickened. Scrape into a bowl, cover with plastic wrap and refrigerate. Cake can be prepared to this stage the day before or several hours ahead.
With electric beaters mix butter until light and airy then mix in the refrigerated custard in two lots. Add the extra cream and continue to whip for a minute or so. Remove paper from meringues and place one on a serving plate. Cover with half the filling then place the second meringue on top. Use remaining filling to cover the top of the cake. The original recipe covers the sides as well, but  I just covered the top. Sprinkle flaked almonds all over. Refrigerate until serving time.
Serve alone or with fresh berries and cream.
Serves 8
Note: make almond meal by blitzing shelled almonds (blanched or unblanched, your choice) in a food processor.