I love trying new gingerbread or ginger cake recipes. I think this is the fourth one to appear on this blog since I started writing it, over ten years ago.
This recipe is adapted from one in The Great British Book of Baking by Linda Collister, written to accompany BBC2's The Great British Bake-off with Mary Berry. She says it tastes just like a popular UK brand of sticky gingerbread, made by McVities.
Instead of using scales, I prefer to measure most of my ingredients with an Australian measuring cup, which holds 250 ml. While you can eat this cake as soon as it has cooled, if you leave it in a sealed tin for a couple of days it will get stickier. I made it in one large loaf pan, but you could use two small loaf pans, or a square or round cake pan. I used rounded to heaped teaspoons of all the spices, because I like my gingerbread to be nice and spicy.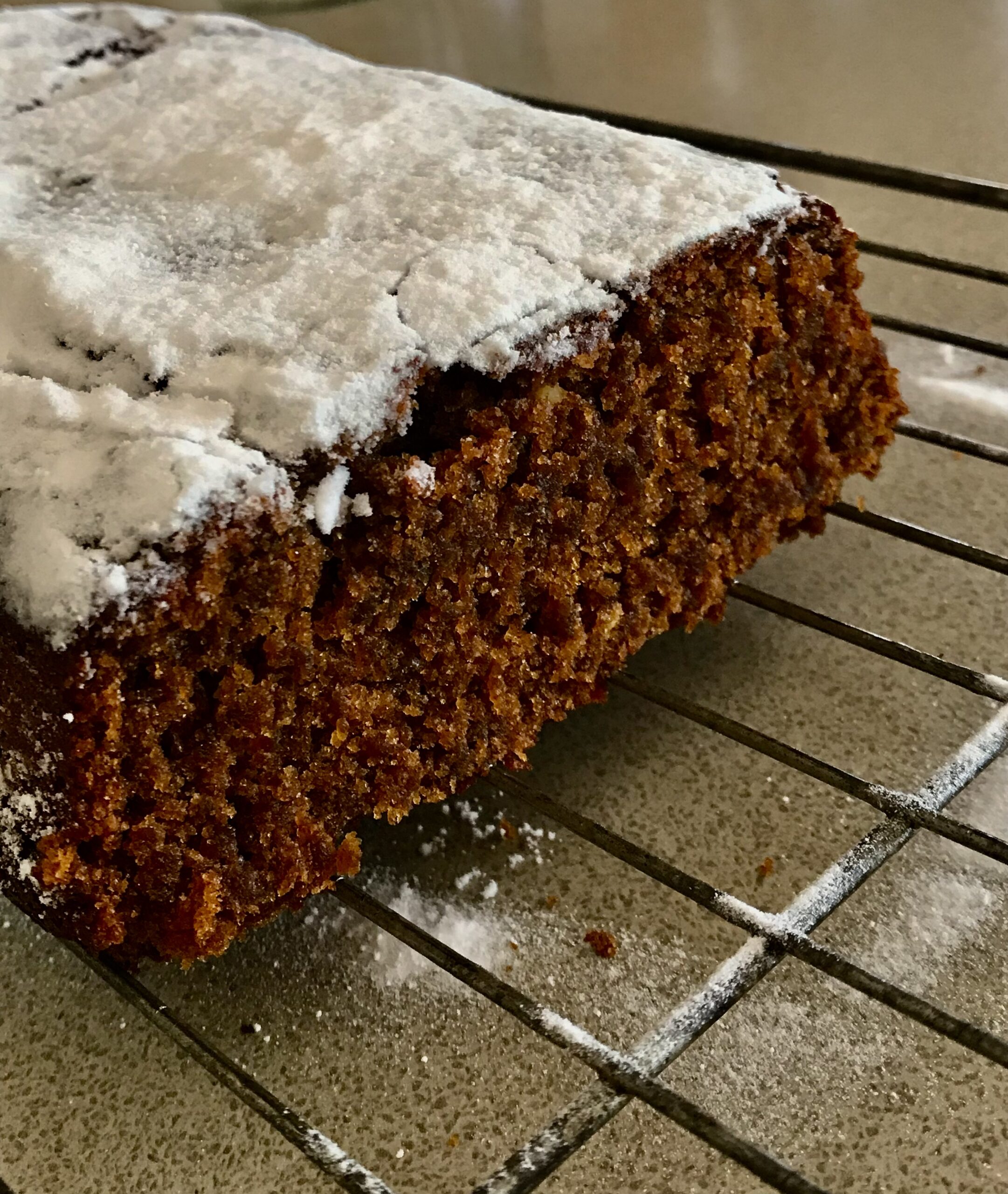 125g butter, cut up
1/3 cup golden syrup
1/3 up black treacle (or substitute molasses)
½ cup firmly packed dark brown sugar
1 cup milk
1½ cups self raising flour
1 tsp bicarbonate of soda
1 teaspoon each ground ginger, cinnamon and mixed spice
1 egg
Grease and line one large loaf pan or two small ones. I used a large silicone pan which measures 23×13 cm or 9×5 inches. I just sprayed it with oil as silicone doesn't need lining with paper. Preheat the oven to 180°C or 170°C if you have a fan-forced oven, which tends to be hotter.
In a medium to large saucepan, heat the butter, golden syrup, treacle or molasses, brown sugar and milk. Turn off the heat as soon as the butter has melted as you don't want it to boil. Add the flour, bicarbonate of soda and spices through a sieve and mix well with a balloon whisk. Lastly thoroughly mix in the egg, then scrape mixture into the cake pan.
Bake for 35-45 minutes. Mine was ready in 35 minutes, but my oven tends to be a bit on the hot side. When ready the cake will be firm to touch in the middle. If you're not sure test with a skewer or toothpick inserted in the middle. It should come out clean, but you don't want to overcook this cake.
Makes one large cake.