Do you ever have leftover cooked rice and turn it into your own version of Chinese fried rice with some sliced omelette, spring onions and maybe a few frozen peas?
This recipe is the Middle Eastern equivalent. Delicious on its own as a simple Sunday night supper, or as a side dish.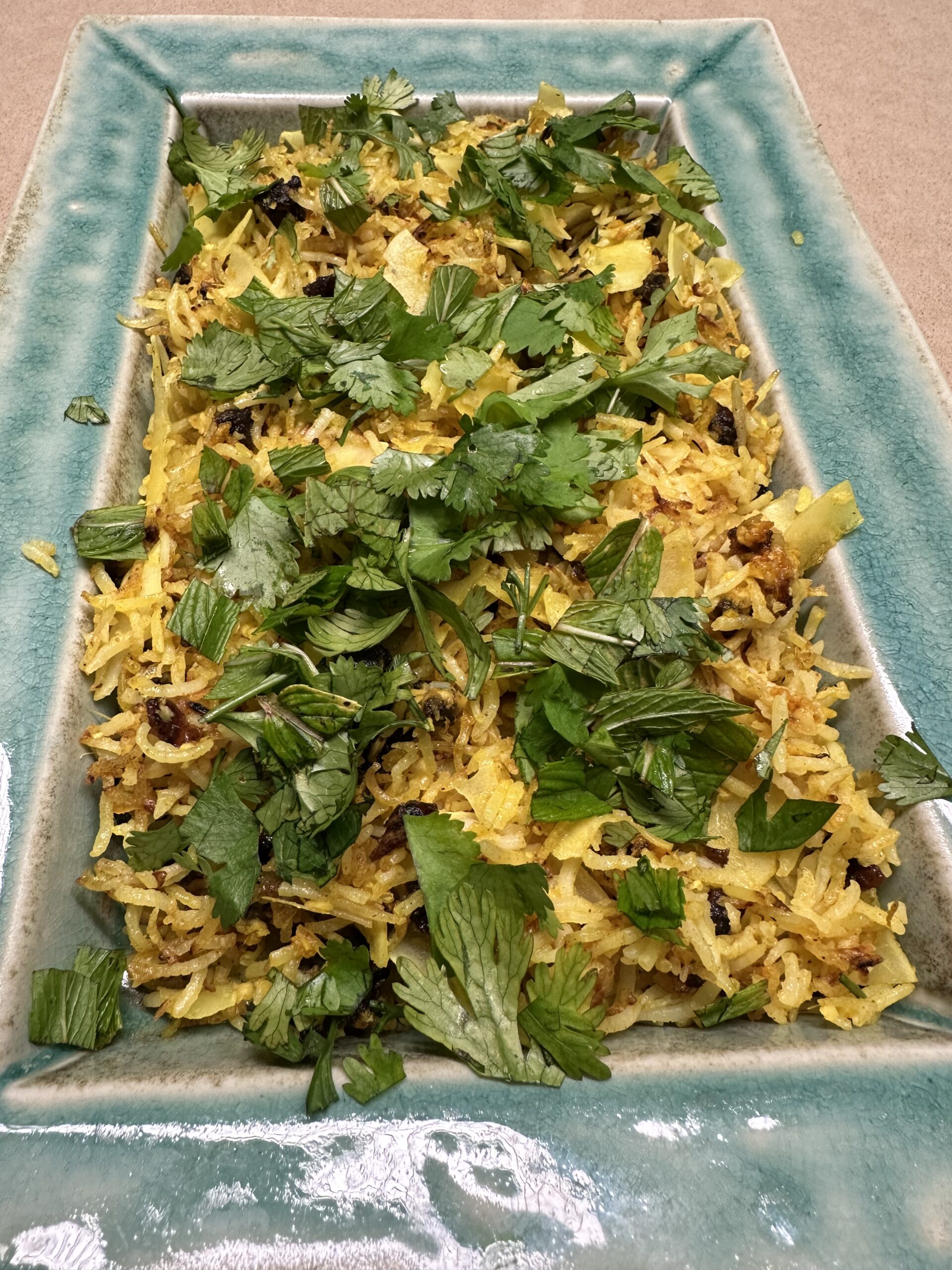 2 Tbs olive oil
1 onion, finely chopped
2 cloves garlic, crushed
2 tsp fresh grated ginger
1 tsp turmeric powder
1 tsp cumin
4 Tbs dates or raisins, chopped
3-4 cups cooked and cooled long grain rice
2 Tbs coconut flakes or chips
2 Tbs chopped fresh mint
Salt to taste
2 Tbs fresh chopped coriander
Juice of 2 limes or one lemon
In a large non-stick frying pan, heat 1 Tbs olive oil over medium heat then add the onion and garlic and cook, stirring often, until onion is soft. Add the ginger, turmeric and dates or raisins and cook for 2-3 minutes, stirring. Remove to a bowl.
Add the remaining Tbs of oil to the pan and turn up the heat to medium-high. Mix the cumin into the rice then add to the pan and flatten it all over the base with a spatula. Let it cook for 5-10 minutes or until golden brown. Keep checking till it's ready. Turn the rice over in sections (as much as you can fit on the spatula) so you get small clusters sticking together. Cook the other side of the rice until golden brown and crispy. Add the date mixture and the coconut flakes and cook for a minute or so, stirring. Mix in half the mint and season to taste with salt. Tip into a warmed serving dish, garnish with the coriander, the remaining mint and drizzle with the lime or lemon juice.
Serves 4
Note: the cooked and cooled rice is best made the day before and refrigerated, so this recipe is perfect for leftover rice.