Lamb has become relatively expensive in Australia over the past year or two. A couple of years ago you could buy a leg of lamb for between ten and twenty dollars. You're now looking at $40 to $50 from a supermarket and more from a butcher's shop. For many familes lamb has gone from being an everyday staple to a special treat.
This tasty stir-fry recipe can be made using lamb fillets or any lean lamb, cut from the leg or shoulder. Adjust the amount of chilli to suit your taste and serve it with rice to make it go further.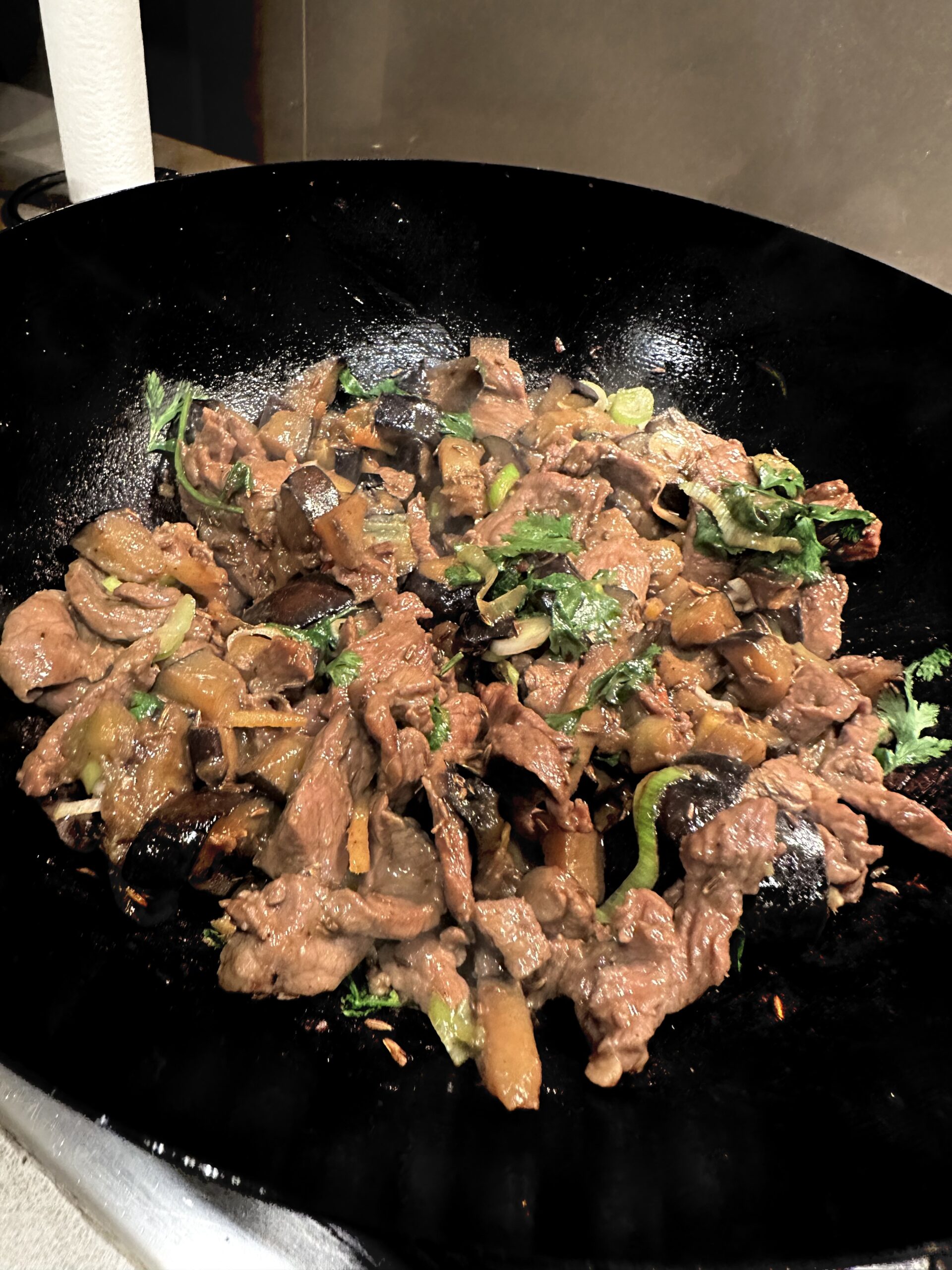 350g boneless lamb cut into thin stir-fry strips
1 tsp cornflour
3 tsp ground cumin
3 Tbs soy sauce
2 Tbs rice wine or sherry
2 tsp sugar
2 eggplants, sliced then cut into strips about 1.5cm wide
¼ tsp salt
2 Tbs vegetable oil
1 Tbs finely chopped or grated fresh ginger
1 Tbs cumin seeds
1-2 small red chillies, finely chopped
2 spring onions finely sliced on the diagonal
Fresh coriander to garnish
Heat the cumin seeds in a small dry frying pan and allow them to lightly toast, being careful not to burn them then put them aside.
Pat the lamb dry then place in a bowl with the cornflour, half the cumin, half the soy sauce, the rice wine or sherry and the sugar. Mix well and put aside for 30 minutes and up to an hour.
Toss the eggplant with the remaining cumin and the salt. Heat half the oil in a wok or large frying pan and cook the eggplant, stirring occasionally for 5 minutes, until it's starting to brown.
Add the ginger, remaining soy sauce and continue to stir fry until the eggplant is dark golden brown. Remove from the wok. Add remaining oil to the wok and when it's hot add the lamb and stir fry for a minute or so, to make sure it's not sticking together, then leave it undisturbed for 2 minutes. Stir fry for another 2 minutes or until golden brown all over. Return the eggplant to the pan with the chillies, spring onions and toasted cumin seeds.
Serve with steamed rice, garnished with the coriander.
Serves 3-4