This is a quick and easy mid-week recipe for two which is easily doubled for four. Serve it on a bed of steamed rice or home-grown rocket. Or why not both.
The rocket we grow in the garden has large leaves and, compared with the rocket you buy, which tends to be thin with tough stalks, it's very tender, as you can see in the photo.
I make my own salad dressings, with one exception. If you can find Kewpie Japanese Roasted Sesame Dressing in your supermarket, I highly recommend you try it. It comes in a 210 ml bottle, although in Costco I've seen it in a one litre bottle.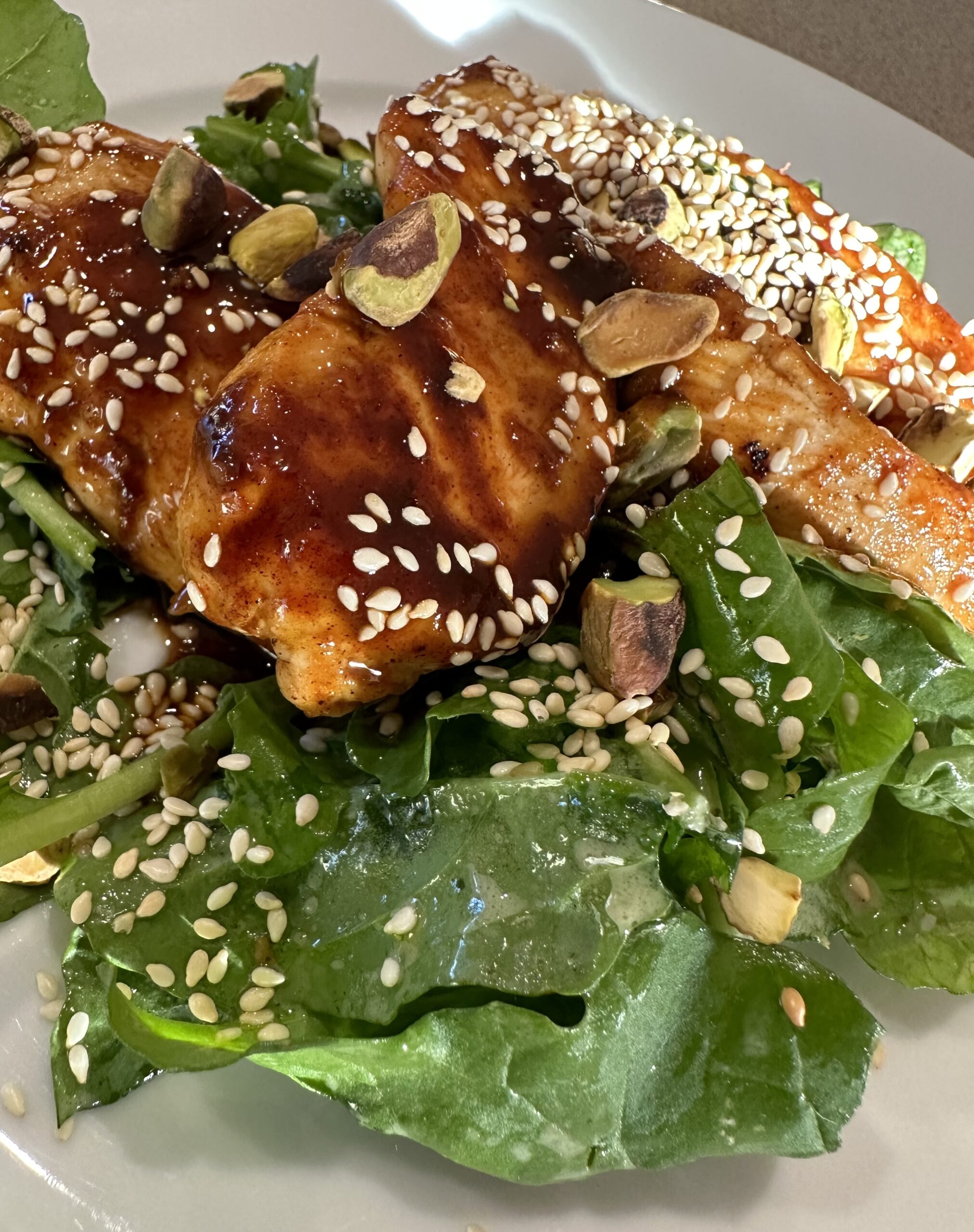 2 chicken breasts (or 3-4 boneless, skinless thighs)
1 Tbs olive oil
1 Tbs Harissa (or another chilli paste or sauce, such as sriracha)
1 Tbs runny honey
1 tsp cinnamon
1 clove garlic, crushed
Salt and pepper to taste
To serve:
4-5 handfuls rocket
Salad dressing of your choice (see above)
1 Tbs sesame seeds
1 Tbs pistachio nuts or pine nuts
Cut chicken breasts into four or five lengthwise fillets. If using thighs, trim and cut into chunks.
Heat oil in a large frying pan and cook the chicken for a couple of minutes on each side, until golden but not quite cooked through. Mix the Harissa, honey, cinnamon and garlic and add to the pan. Continue to cook the chicken for a few minutes, turning regularly until the sauce has virtually disappeared and the chicken is nicely glazed.
Toast sesame seeds and nuts in a dry frying pan until lightly coloured.
Dress the rocket and arrange on two serving plates. Top with the chicken and any remaining sauce and garnish with the seeds and nuts.
Serves 2