This recipe comes from a book called Miguel's Tapas by Spanish chef Miguel Maestre.
In his recipe he fries the eggplant slices. I prefer to brush them with a little olive oil and cook them in the oven. This way you have more control over the amount of oil they soak up. If you don't have gruyere cheese, use an aged cheddar.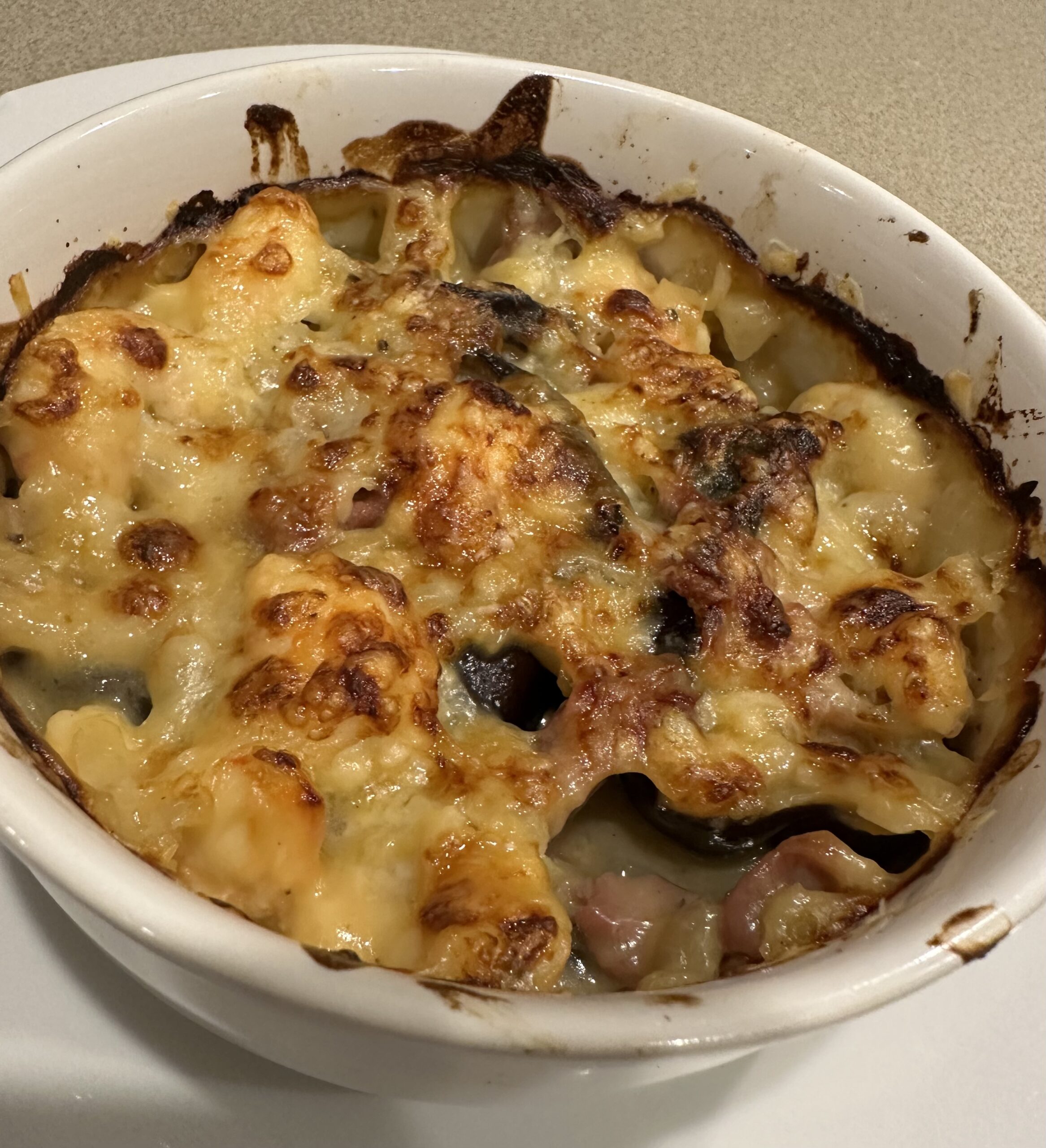 2 eggplants (about 500g), sliced 1.5 cm thick
Olive oil
Salt and freshly ground black pepper
1 onion, finely chopped
2 Tbs olive oil
3 cloves garlic, peeled and sliced
3 Tbs flour
1 cup milk
1 cup stock (chicken, beef or vegetable)
12-16 large green (raw) prawns, shelled, deveined and halved
50g thinly sliced jamon serrano, torn into smaller pieces
50g gruyere cheese, grated
Preheat oven to 200°C. Line a large shallow baking tray with baking paper and arrange the eggplant slices on top. You may need two trays. Brush the slices with olive oil on both sides and season lightly. Bake for 20-30 minutes or until golden and cooked.
Meanwhile, heat the 2 Tbs olive oil in a non-stick saucepan until soft. Add the onion and garlic and cook gently for 10 minutes or until soft but not browned. Add flour and cook, stirring for a couple of minutes. Gradually add the milk and stock and season lightly once the sauce has thickened.
Oil four individual dishes with a capacity of about 2 cups or one large dish. Divide the eggplant slices and the prawns between the dishes, then top with the jamon. Spoon the onion sauce over the top, then top with the grated cheese. Bake for about 30 minutes or until golden and bubbly. Serve with a green salad.
Serves 4
Note: go easy on the salt on the eggplant slices and in the sauce, bearing in mind that the jamon and the cheese are both quite salty