Chicken Parmigiano is a dish I developed many years ago and have made again and again.  It's a great family dish but also perfect for casual entertaining.  Everyone loves it.  You can make it the day before or in the morning, then refrigerate it till you need to stick it in the oven.  I usually make double the sauce and freeze half so next time it's super quick to make.  A large mixed salad, preferably including avocado, is the perfect accompaniment, but if you have teenage sons with hollow legs, then garlic bread goes well.  If the chicken breasts are very large you can cut them in two.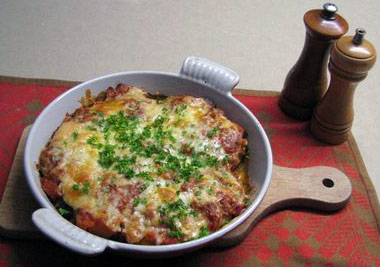 4-6 single chicken breasts
About half a cup of plain flour, seasoned with salt and pepper
1 egg beaten with 1 Tbs water
dry packaged breadcrumbs
60g butter
3 Tbs oil
250g cheddar cheese, grated
60g Parmesan cheese, grated
Sauce:
1 Tbs oil
1 large onion, finely chopped
2 sticks celery, finely chopped
1 red capsicum, finely chopped
1 clove garlic, crushed
400g can tomatoes, whizzed in processor
1 Tbs finely chopped parsley
1 Tbs finely chopped fresh basil (or 1 tsp dried)
2 tsp sugar
1 Tbs tomato puree
1½ cups water and ½ chicken stock cube
Use a meat mallet to flatten out the chicken breasts a little and remove any fat.  If very large  you might like to cut into two portions. Toss in seasoned flour, dip in egg mixture then coat in breadcrumbs, patting them on firmly.  If you have time refrigerate, covered in one layer for half an hour or up to several hours. Heat oil in large frying pan. Gently cook onion, garlic, celery and pepper, all together, until soft but not coloured. Add tomatoes, sugar, tomato puree, water and herbs. Simmer 30-40 mins until thickened, but not too thick as it will cook more in the oven. Heat oil and butter in another large frying pan and cook chicken on both sides until golden brown.  Place in a buttered shallow ovenproof dish in one layer. Cover with the sauce and sprinkle with the two cheeses mixed together. Bake uncovered for 25-30 mins at 180°C or until golden. Serve with a mixed salad.
Serves 4-6