Nigella Lawson has a recipe for an unbaked cheesecake with a cherry topping and another recipe for a baked cheesecake with no topping.  I decided to combine the two for this recipe and use less sugar and a thinner biscuit crust.
Nigella's system of baking the cheesecake in a water bath, using a piece of foil to stop the water from getting into the spring form pan, gives a very creamy result.  It's not at all dry and cloying like some baked cheesecakes.  Nigella adds extra egg yolks to the filling, but I found that it set perfectly using 3 whole eggs.  I put a thicker sour cream layer on mine because I wanted the cheesecake to be nice and deep and come almost to the top of the pan when finished.
Baked Cheesecake with Sour Cherry Topping
Biscuit base: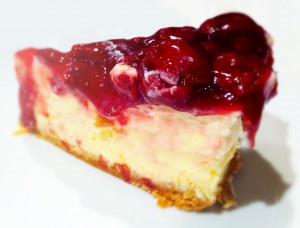 100g digestive biscuits (or other plain sweet biscuits which need using up)
50g butter at room temperature
Cream Cheese filling:
500g cream cheese at room temperature
125g caster sugar
1½ Tbs vanilla essence
2 Tbs lemon juice
3 large eggs
Sour cream layer:
500-600g sour cream (two tubs/cartons)
1 Tbs vanilla essence
3 Tbs caster sugar
Sour cherry topping:
1 can or jar of sour cherries in juice (I used a 680g jar from Aldi)
1 Tbs sugar (optional)
4 Tbs arrowroot + 2-3 Tbs water
Turn the oven to 170°C and line the bottom of a 20cm spring form pan with baking paper.  In a food processor blitz the biscuits until they form crumbs, then add the butter and process until the mixture sticks together. Tip into the pan and press down over the bottom using your hand or the bottom of a glass.  Place in fridge while you make filling.
Wipe out the food processor to remove any crumbs, then process cream cheese until smooth.  Add the sugar, then lastly the vanilla, lemon juice and eggs.  When smooth pour into the pan.  Place the pan on a large piece of tough aluminium foil and bring it up the outsides of the pan, crunching it down around the outside edges.  Place pan in a deep baking tin or dish and pour boiling water to come halfway up the sides of the cheesecake.  Bake for 30-40 minutes or until cheesecake is firm in the middle – test with the palm of your hand.
Meanwhile in a small bowl mix sour cream with sugar and vanilla.  When cheesecake is set in the middle, spread sour cream mixture evenly over the top and return to the oven for 10 minutes.  Remove from the oven, lift out of the water bath and allow to cool, then refrigerate.
Tip cherries and their juice into a sauce pan and bring to the boil.  Add sugar if you think they need it.  Mix arrowroot with cold water till smooth then add to the pan and cook, stirring, until mixture thickens.  You can use cornflour instead of arrowroot, but arrowroot is better as it doesn't make the mixture turn opaque.  Allow to cool for a while so it's not too hot, then spoon onto cheesecake and spread evenly.
Chill cheesecake for several hours or overnight.  To serve, run a knife dipped in boiling water around the outside to loosen it from the pan, then carefully undo the spring and remove the sides.  Cut slices using a knife dipped in hot water.
Serves 12
Variations:
Use fresh strawberries, blueberries or raspberries to cover top of cheesecake instead of the cherry topping.
Passionfruit topping: mix half a cup of fresh passionfruit pulp with a cup of boiling water.  Mix well then tip through a sieve.  Return 2-3 tablespoons of the passionfruit seeds to the juice and discard the rest.  Add 1-2 tablespoons sugar, to taste and stir to dissolve.  Place 4 teaspoons powdered gelatine in a small dish with 2 tablespoons water.  Zap in microwave to dissolve, then add to the passionfruit juice and stir well.  Tip onto the cold cheesecake and refrigerate until jelly has set.