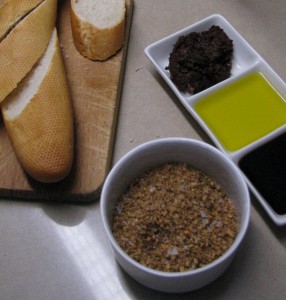 Dukkah is a quick and easy Middle Eastern snack to serve with drinks.  It's basically a mix of roasted then ground nuts and seeds, served with fresh bread and olive oil.
You can use any mixture of nuts you have available.  Sesame seeds are essential and while I've seen recipes which use fennel seeds, I prefer coriander and cumin.
Dukkah
125g shelled nuts (pine nuts, skinned hazelnuts, almonds or a mixture)
2 Tbs sesame seeds
2 Tbs whole coriander seeds
2 Tbs whole cumin seeds
salt (preferably Maldon flakes or similar) and freshly ground black pepper
chilli powder (optional)
To serve: extra virgin olive oil and fresh bread
Place nuts and seeds in a heavy frying pan.  Stir over moderate heat for several minutes or until nuts start to brown and seeds start to pop.  Cool then blitz in a food processor until finely ground.  Don't over-process or mixture will become oily and sticky.  Add salt and pepper to taste and a little chilli powder if using.  You will need to add between one and two teaspoons of salt.  Store in a sealed container in the fridge and serve with olive oil and fresh bread –  the idea is to dip the bread in the oil first, so the dukkah sticks.
Makes about 1 1/2 cups
In the photo you can also see balsamic vinegar and sundried tomato pesto, which also go well with the oil and dukkah.