Beetroot is an excellent source of antioxidants and nutrients such as magnesium, potassium, sodium and Vitamin C.  The Olympic athletes in London this year drank concentrated beetroot energy drinks in little shot bottles and as you can imagine the company which makes them is going from strength to strength.
I don't much like canned beetroot, but I've always been a fan of fresh beetroot.  Until a few years ago I only knew how to boil it and serve it in salads, doused with a little vinegar. Now I prefer to roast it with some olive oil.
This is another recipe from the November issue of Delicious which I halved to serve two and adapted a bit to speed things up.
Beetroot and Goat's Cheese Salad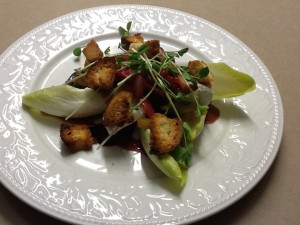 2-3 small beetroots
1 Tbs olive oil
1 head of endive (witlof) trimmed and leaves separated)
1 stalk rhubarb
1 Tbs lemon juice
1 Tbs sugar
1 Tbs water
1 cup home-made croutons (use sourdough or French baguette)
120g soft goat's cheese (I used small log-shaped packet) sliced
Some pea shoots or cress to garnish
Extra virgin olive oil to serve
Wine dressing:
½ cup red wine
2 Tbs red wine vinegar
2 Tbs sugar
4 pickling onions or shallots, peeled and halved lengthwise
freshly ground black pepper
Turn oven to 180°C.  Peel beetroots, cut in halves, then cut each half into four, so you have 8 wedges from each beetroot.  Place in a baking dish, drizzle with oil, mix then bake for about 30 mins or until just tender.  Halfway through cooking time remove from the oven and stir. When cooked remove from oven and cool.
Meanwhile trim rhubarb, cut into 6cm lengths, then slice thinly lengthwise.  Heat water, sugar and lemon juice and when boiling and sugar has dissolved add rhubarb.  Let it come to the boil again then turn off heat – the sticks should maintain their shape so don't overcook.  Drain rhubarb and keep the liquid in the pan.  To this liquid add all the ingredients for the wine sauce. Bring to the boil then simmer for 10-12 mins or until syrupy. Remove onions and separate them into petals.  Discard star anise.
To serve, drizzle some of the wine sauce on two serving plates, then mix the rest with the beetroot.  Arrange about five endive (witlof) leaves on each plate, then the beetroot wedges, croutons, goats cheese, rhubarb, shallots and pea shoots.  Drizzle with a little extra virgin olive oil.
Serves 2