We've been on a bit of a weight loss campaign and have managed to lose a few kilos.  A good enough reason, don't you think, to celebrate and make a yummy cake? Date and Walnut Loaf is an old family recipe from the days when a slice of cake with afternoon tea was mandatory.  I have lots of cake recipes but this is one of about ten favourites that I've made many times.  If allowed to do so it will keep for at least a week in a tin.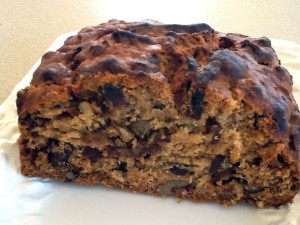 Date and Walnut Loaf

375g stoned dates, cut into chunky pieces
100g butter, cut into small pieces
1 cup boiling water
1 tsp bicarbonate of soda
1 egg, beaten
¼ cup honey
2 cups plain flour, sifted
1 tsp baking powder
1 tsp vanilla essence
pinch salt
1 cup coarsely chopped walnuts
Heat oven to 170°C.  Place dates in a bowl and add boiling water, butter and bicarb.  Stir until butter has dissolved then add egg, honey, flour, baking powder, vanilla essence, salt and walnuts and mix well.  Tip into a large greased loaf tin or a 15cm square tin, bottom lined with baking paper.  Bake for 35-45 minutes or until well-risen and evenly browned and a skewer inserted in the middle comes out clean.  All ovens are different and if over-cooked the cake will be dry.  When cool store in an airtight tin and keep for a day before using – if you can resist!  If you want to be really decadent, serve buttered.